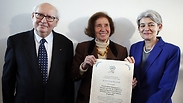 UNESCO director general Irina Bokova (center) WITH Serge and Beate Klarsfeld (Photo: AP)
A Nazi hunter couple renowned for documenting all 76,000 French Jews deported in World War II and tracking down Nazis for prosecution were honored Monday with a new role - to work as ambassadors of genocide prevention at the UN's education agency.
The United Nations Educational, Scientific and Cultural Organization praised Serge and Beate Klarsfeld for their tireless support of the cause of the descendants of deported Jews and "their wake-up call to societies to recognize their historical and moral responsibilities" after World War II.
Nazi Memorial
Simon Wiesenthal Center tracking down Nazi war criminals labels service marking 55th anniversary of pro-Nazi leader a 'badge of shame' for Catholic Church.
"You have done more than hand out justice, you gave a name, a face and a unique story to those whom some aimed to wipe from the surface of the earth," said Irina Bokova, UNESCO's director general.
They will work with UNESCO's ongoing effort to prevent genocide in such places as the Middle East and Africa, although no specifics were provided on their specific roles.
Serge Klarsfeld, 80, a French historian, lawyer and Holocaust survivor, and his 76-year-old German-born wife systematically unearthed paperwork in archives around the world, such as signatures, ID cards and train schedules, that decades later clinched convictions of former Nazis and their French collaborators from 1940-1944. It also forced a national re-evaluation of the Vichy government's collaboration in the Final Solution.
The Klarsfelds tracked Klaus Barbie, the "Butcher of Lyon," to Bolivia and orchestrated his extradition to France. Barbie, convicted in 1987 for ordering a raid on the Jewish orphanage outside Lyon, died in prison.
Klarsfeld, a quiet man with an iron will, never stopped hunting his most elusive prey, Alois Brunner, the SS officer who ordered a roundup of Jews in Nice that snared Klarsfeld's father Arno, who perished at Auschwitz. Klarsfeld traced him to Syria, but Brunner was never found.
Revenge, Klarsfeld said, was not the motive for his activism, which began after a 1965 visit to Auschwitz.
"It was a tremendous shock," Klarsfeld told the AP in 1996. "It made me realize that, as a survivor, as the son of a victim, it was my job to find out the truth about the genocide."