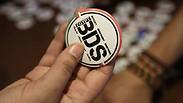 343 British academics pledged to uphold an academic boycott of Israeli Universities due to their "support for Israeli violations of international law and support for the occupation," in a full page advertisement published in Tuesday's edition of the Guardian.

The ad is a direct response to an ad published in the same paper on Friday, in which 150 British authors, artists, and musicians - including Harry Potter creator J.K. Rowling - expressed their opposition to a cultural boycott of Israel.

The Friday ad sparked a controversy among Guardian readers, leading the paper to publish furious letters against the pro-Israel movement authored by Brian Eno and the Baroness Jenny Tonge, among others.

The 343 academics come from 72 different British institutions, including the prestigious Oxford and Cambridge universities. In the ad, the scholars pledged not to visit Israel, work with Israeli institutions, or partake in any referrals to Israeli academic centers. The signatories did not, however, call for the severing of existing personal working ties, rather choosing to target the institutions themselves both directly and indirectly.

Among other grievances, the scholars claimed that the Technion in Haifa had helped develop technologies used to destroy Palestinian homes.

One of the signatories, Professor Jane Hardi, explained that the ad was an opportunity for academics to sound their voice as part of a growing movement in the international community, which views Israel as responsible for human rights abuses. According to her, Israel prevents Palestinian academics and students from participating in the global academic community.

The Israeli embassy in the UK published a scathing response to the ad, saying, "Boycott movements only aim to sow hatred and alienation between the sides, rather than promoting coexistence.

"The only path to advancing peace between Israelis and Palestinians passes through the negotiation room. Israel has called time and again for the renewal of talks immediately, without any preconditions. Those who call for a boycott against Israel during a month which saw 45 stabbing attacks- in which more than 100 Israelis were wounded, and 10 were murdered – blatantly ignore the lives of Israelis, and the conditions necessary for peace," the statement concluded.

In light of the ad, not a single British University has formally boycotted Israel. British Ambassador in Israel, David Quarrey, responded to letter saying, "The British Government firmly opposes calls to boycott Israel. We are deeply committed to promoting the UK's academic and scientific ties with Israel, as part the flourishing partnership between the two countries. The reality is one of rapidly strengthening trade and tech links between Britain and Israel. As David Cameron has said, the UK Government will never allow those who want to boycott Israel to shut down 60 years worth of vibrant exchange and partnership that does so much to make both our countries stronger."