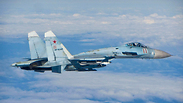 US-led coalition forces had not carried out any air strikes in Syria for three days as of Monday, a lull that contrasts with the continued intensity of Russia's bombing campaign.

According to Pentagon data, the last coalition strike was a drone attack on October 22 that targeted an Islamic State vehicle and a "mortar tube."

Russia, on the other hand, continues to maintain an intense tempo as it nears the end of its first month of bombing in Syria.

The Russian defense ministry said Monday it had hit 94 targets in just the past 24 hours.

US defense officials say Russian sorties have no bearing on coalition actions in Syria, and insist the situation reflects greater discrimination and refinement in terms of which targets are struck.

"It's not because of Russia," said Captain Jeff Davis, a Pentagon spokesman.

"Air strikes ebb and flow... We look at intelligence to find out where we have actionable targets, where we have targets that we can hit without causing civilian damage.

"We simply haven't had any (recently)... but that doesn't mean we are not on the lookout for more - and there will be more."

The United States has led a coalition of more than 60 countries that since June 2014 has been conducting regular air raids against ISIS positions in Iraq and Syria.

As of Sunday, coalition aircraft had carried out a total of 2,679 air strikes in Syria.

According to Pentagon figures, the coalition launched 359 air strikes in July. The number dropped to 206 in August and 115 in September.

Continuing the downward trend, there have been 91 strikes so far this month.

"As we continuously seek legitimate targets, it takes time," said Commander Elissa Smith, a Pentagon spokeswoman.

"The strikes we take are not just randomly against targets; they are part of an organized campaign."

Russia and the United States last week signed a memorandum of understanding that establishes measures so their pilots steer clear of each other as they conduct separate bombing campaigns in Syria.

Moscow says its bombing campaign that began on September 30 targets ISIS jihadists and other "terrorists," but the West claims the strikes have focused on moderate rebels fighting Russian-backed President Bashar Assad's forces.