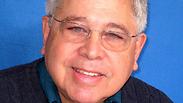 Richard Lakin (76), an Israeli-American citizen who was stabbed and shot in the attack on the number 78 bus in Jerusalem's Armon Hanatziv neighborhood on October 13, succumbed to his wounds on Teusday morning.
Lakin's children published a Facebook post in which they announced their father's passing, "Dad passed away this morning. He was 76 years old, and had eight grandchildren. He was butchered by Muslim terrorists who shot him in the head and stabbed him multiple times during an attack on Bus 78 in Jerusalem's Armon Hanatziv neighborhood."
"After the attack Dad was rushed to Hadassah Ein Karem Hospital in Jerusalem where the incredible medical staff worked diligently around the clock for two weeks trying to save his life, but, alas, his injuries were too severe," the post said.
"We love you Dad and will do our best to live respectful, loving lives and pass along "acts of kindness," the post concluded.
Lakin's funeral is set to be held on Wednesday, further details were set to be announced later.
The attack took place on October 13, when two terrorists - Baha Aliyan, 22, and Bilal Ranem, 23, both from Jabel Mukaber - boarded the Egged bus on Olei HaGardom Street in East Talpiot, a neighborhood also known as Armon HaNetziv, one armed with a gun and the other with a knife.
The scene of the attack (צילום: דוברות מד"א)
They started shooting and stabbing passengers while the bus kept moving, killing Haviv Haim and Alon Goberberg.
Several other people were injured in the attack.
A security guard at the scene was able to overpower one of the terrorists and shoot him. The attacker then tried to get up and resume his attack, but the security guard shot him again.
One of the people injured in the attack, Marike Veldman described the attack in an interview with ynet from her hospital bed. "I entered the bus 78 in Armon Hanetziv (and) I saw two Arab men sitting in the very beginning of the bus, I thought to myself 'what were they doing on a bus at this hour, they should be at work,' they looked suspicious," she said.
Marike Veldman (צילום אלי מנדלבאום)
"They were laughing, exchanging maybe a joke or something, and then all of sudden they got up and started screaming 'Allahu Akbar,' and then one of them started stabbing me and he stabbed me several times, I yelled 'Jesus help me,'" she recounted.
The Associated Press contributed to this report.