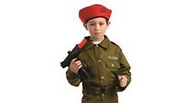 Walmart offers a child's IDF costume for Halloween.
US retail outlet Walmart has found itself in the center of a storm of controversy after offering a child's costume of an Israeli soldier on its website.

The costume is on sale at $27.44 and has been added to Walmart's online store ahead of Halloween, which is coming up on Saturday.

The costume includes an Israeli army uniform, with the Hebrew abbreviation for "IDF" on the jacket, and a red cap with the army logo on.

The website displays a photo of a boy wearing the costume, complete with a toy gun.

Shoppers took to social media to express their shock that Walmart is offering the costume during such a tense period in Israel and accused the company of lacking sensitivity. One Twitter user even called to boycott Walmart.

The company has yet to respond to the criticism. Walmart sells a variety of different army costumes, including that of the United States. It also sold until Tuesday a prosthetic nose that it billed as "perfect for dressing up as an Arab sheikh." The item was removed from the website after it also provoked criticism online.

The nose was also sold under the heading "Fagin," which was the name of a character in Charles Dickens' Oliver Twist that is now considered to be an anti-Semitic portrayal.

In 2013, Wal-Mart also came under fire for selling a Bin Laden fancy dress costume.