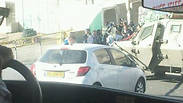 Photo: Tazpit Press Service
An Israeli soldier was lightly wounded with a cut to his face in a stabbing attack in Hebron on Thursday morning that continued a wave of similar attacks beginning approximately one month ago.
The Israeli victim is a member of the IDF's Kfir Brigade.
After wounding the soldier, the assailant, 22-year-old Hebron resident Mahadi al-Muhatseb, reportedly tried to attack a border policeman who shot and killed the individual.
In a separate incident, a currently unidentified attacker attempted to stab someone near Beit Hadassah in Hebron.
The attacker was shot and killed by soldiers in the Givati brigade who were on the scene.
No other injuries were initially reported.
These latest attacks came after a similar incident on Wednesday during which a 40-year-old Israeli woman was stabbed and moderately wounded at Gush Etzion junction, according to MDA. The attacker was apprehended soon afterward.
This is a developing story.