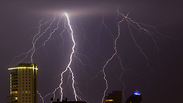 It was a long and hot summer in Israel, and over the past week, it seems the weather has been trying to make up for it all at once, with a string of continuing storms that have flooded streets and left tens of thousands without power.

The electric company finally announced Thursday that electricity had been returned to all Israelis after an intense lightening show struck the coast overnight, bringing a significant amount of rain.

Two people were killed in weather-related incidents during the first day of severe rains on Sunday, but the storm has also been cause for some laugh and make light of the heavy clouds.

Like this guy who took the opportunity to make is voice heard:

I'm singing in the rain!

Or this group who enjoyed the comic timing of their friend trying to unblock a drain:

Scubadiving in the backyard. (צילום: רום חתוכה )

While the surfers in Israel found an easy way to get around:

Kfar Saba beach life. (צילום: דנה שמעוני)

As did the trash bins:

Taking out the trash. (צילום: אריאל אומנסקי)

The large amounts of rain and heavy winds led to flooding and power outages that had many wondering if authorities could be doing more to prepare for such events.

Flooding in Kfar Saba. (צילום: רון שריר ואלדר קטזביץ)

In Kfar Saba and Ra'anana, the streets turned into fast-flowing rivers and some homes and business were damaged on Thursday morning and local mayors called for a formal investigation into the handling of the shift in weather.

The rest of the week has also resulted in some unique photos showing that not only politics can be volatile in the Middle East.

So, when does summer begin again?