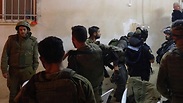 The judges of the High Court of Justice issued an order on Thursday, calling on state officials to submit by Monday morning details of house demolition orders which were approved by the court, yet not immediately carried out.
The details requested by judges judges Miriam Naor, Hanan Meltzer and Noam Solbar include the dates of the judgments, the dates of the actual implementation of the demolition orders and the reasons for the timing of the implementation of the orders.
The High Court's decision harshly criticized the state's conduct and will actually prevent the demolition of terrorists' homes until at least November 5.
Judge Hanan Meltzer harshly criticized the state's conduct surrounding the issue on Thursday. "First of all you say it's urgent and put the whole system under pressure, and then once the judgment is made, you linger," the judge told the prosecution's representative Avinoam Segal.
"Bring us a list stating when the event occurred, when the judgment was given and when you carried it out. There were cases where things were confirmed and you lingered over implementing the decision for months. In the end they say that the courts delay things."
Judge Noam Sulberg also raised criticism over the delays. "There are cases in which the verdict is handed down, and plenty of time passes until its execution," he said. "It has a negative effect on the stated urgency. A verdict is given then many months pass," he added.
"We are in a situation in which attacks come one after the other," the prosecution's representative said. "In such an extreme situation, extraordinary tools must be used. The state knows that this process is exceptional. This tool can help deter potential attackers," he concluded.
Concurrently, the state will issue letters to the families of three of the suspects in the murder of Eitam and Naama Henkin. The appellants can respond to the prosecution's letter until November 5 at 10am. This means that the demolition orders for those homes will not be enacted until that date – as long as the order remains.