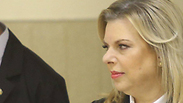 Sara Netanyahu, wife of the prime minister gave a two-and-a-half hour testimony in court on Thursday as part of the ongoing lawsuit submitted by former residence employee Guy Eliyahu.

The suit accuses Netanyahu of breaking the law on employees' hours and of harassment.

"It's a disgusting lie," said Netanyahu in response to Eliyahu's claims that employees were subjected to intimidation at the residence. "The atmosphere today is very pleasant. Everything is great in the house and everything is as it should be," she continued. "This whole treatise is a lie."

Netanyahu also stressed that she is the first prime minister's wife in Israel to have kept working.

"I help children with cancer, Holocaust survivors, bereaved families and battered women," she continued.

Netanyahu also addressed the claims of former chef Eti Haim in the previous suit against her.

"I hope that Ms. Eti Haim took the trouble to say that she is a good friend of Meni Naftali and Guy Eliyahu," Netanyahu said. "It is one group of three or four people out of dozens, whom they are also pressuring. Some of them said that Mani Naftali offered them money to sue me."

The prime minister's wife also commented on the incident wherein Eti Haim fainted while in the residence.

"They called me and said that she had passed out," Netanyahu testified. "I saw a doctor and a paramedic. I saw that she had opened her eyes and gave me a very unpleasant look before closing her eyes again.

"I don't want to say what I thought about this fainting episode. It was a very unpleasant look that she gave me. I didn't feel good about that look," Netanyahu added.

Netanyahu was also asked about the claim that she yanked a tablecloth with food on it.

"Absolutely untrue," was her response. "It is a crazy fabrication from start to finish. Most of the employees have broken things a million more times than I have. By accident, of course."

Netanyahu also blamed Naftali for the ice cream affair at the prime minister's residence.

"The frame agreement was done by Mani Naftali. A big portion of the blame lies with him, he ordered the pistachio ice cream and agreed the contract for buying it."

The frame agreement, which was revealed by Calcalist, showed a total of NIS 10,000 being spent in one year at an ice cream parlor close to the prime minister's residence. Following the revelation, Netanyahu ordered the agreement to be canceled.

Netanyahu also responded to other claims of former employees: "People became sick because of me? No way."

The wife of Meni Naftali exited the courtroom in tears after hearing what Sara Netanyahu said about her husband.

Naftali himself said that he had been through a difficult period and that he had not managed to find work.

"People are getting on the witness stand and lying," he said.

Eliyahu also claimed as part of the suit that Sara Netanyahu had "bullied" employees while he was working in the residence from 2011-2012.

"For example, when you brought her food that she had requested, she would accuse you of making her fat," Eliyahu said.

Eliyahu's lawsuit is the latest in a string of official complaints against Sara Netanyahu, including those of Eti Haim and Mani Naftali.