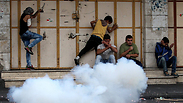 The West Bank's largest city has become a focal point of Israeli-Palestinian violence, with near-daily deadly confrontations erupting at Israeli army checkpoints that guard enclaves of Jewish settlers in the once-thriving center of Hebron.
One-third of 58 Palestinians killed by Israeli fire since mid-September were in Hebron, including two Palestinians shot dead on Thursday. Eleven Israelis were killed in Palestinian attacks, mostly stabbings, over the same period, though none in Hebron.
Israel says nearly all of those killed in Hebron were knife-wielding attackers, but rights groups have challenged that, saying some did not pose a threat to soldiers' lives.
The events in Hebron are central to the Israeli-Palestinian clash of narratives over the latest violence.
Israeli Prime Minister Benjamin Netanyahu's government portrays the spate of Palestinian attacks as a "wave of terror" whipped up by anti-Israeli Palestinian incitement.
Netanyahu's critics say this ignores the underlying cause of the conflict.
In Hebron, hundreds of troops guard 850 settlers, making it the only Palestinian population center in the West Bank with a major Israeli army presence. Friction is amplified by what Palestinians and Israeli rights activists say is systematic harassment by settlers.
"People are boiling — more settler violence, no hope," said Palestinian activist Issa Amro.
Settler spokesman Noam Arnon blames the violence on what he contends is the Palestinians' refusal to accept the presence of Jews and their historic roots in Hebron.
A small group of Palestinian attackers "wants to destroy the life of Jews and Arabs" in the city, he said. He dismissed allegations of systematic settler violence, portraying Palestinians as the main aggressors.
Another ingredient in Hebron's combustible mix is a major shrine that was divided into separate prayer areas for Muslims and Jews in 1995, a year after a settler killed 29 Muslims in a shooting rampage there.
Known to Jews as the Tomb of the Patriarchs, it marks the traditional burial sites of biblical patriarchs. Muslims call it the Ibrahimi Mosque, after Abraham, one of the patriarchs.
The latest violence began in Jerusalem, driven in part by Palestinian fears that Israel plans to divide a major contested shrine there like it did in Hebron. Israel denies such claims.
Initially, many of the attacks involved Palestinians from Arab neighborhoods of Jerusalem. After Israel erected roadblocks in Jerusalem earlier this month, restricting the movement of Palestinians, the momentum shifted to traditionally volatile Hebron.
An interim agreement in the 1990s divided the city, placing the center under full Israeli control and the rest under Palestinian self-rule. The fate of the Hebron settlers was left to a final Israeli-Palestinian peace deal that never materialized. Instead, settlers moved into more buildings and Israel tightened security controls, leading to the current separation regime.