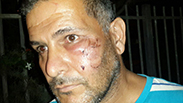 Wail Shaalan, injured in a racist attack in Netanya.
A Druze resident of Netanya filed a complaint with police last Thursday, saying he had been attacked the day before near his place of employment- because he was speaking Arabic.

Wail Shaalan said he had been speaking to a colleague in front of the building where they work, "We were speaking Arabic, and suddenly a guy of Ethiopian origin approached us and said: 'Arabs, you have to be eliminated'. I was shocked. I have lived in Netanya since 1999 and this was the first time I have experienced such an incident.

"After he started threatening me I asked, 'Why are you cursing? We are all Israelis and belong to one people and live in the State of Israel," continued Shaalan. "He replied and said: 'You're dirty Arabs, you need to be eliminated, killed and butchered.'

"I told him it was undignified to speak that way, but he started pushing and attacking me. At one point I grabbed him, I was afraid he had a knife and would stab me. I didn't want to stab him, so we wouldn't be charged in the end like in many cases."

Shaalan said he found it unfortunate that "these days, people are suspected of being terrorists, and they get shot and in the end it turns out that they are regular people. I am worried that the police will say that my case was not motivated by nationalism. It's easiest to say that and in the end we will pay the price."

"Just then a police car passed by. My friend called to them, but unfortunately they didn't do their job. They asked me to call for a police car. I told them to call for one through their radio, but they insisted that I was the one who needed to do it," he added.

"Eventually I called the police and told them to come to the scene and after 20 minutes a car arrived with one policeman in it," Shaalan continued.

"If we were talking about an Arab that attacked a Jew I would have seen a lot more police and the situation would have been treated differently," he concluded.

Attorney Ahmed Ghazawi, who is representing Shaalan, defined the attack as a serious incident: "Unfortunately racism is being uncovered all over the place and there is no one to stop it. The time has come to defeat this phenomenon before a catastrophe occurs."

A statement from the Sharon region police said in response: "We take all violent incidents seriously. The findings from our investigation revealed that this event was not nationalistically motivated."