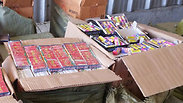 Economy Minister Aryeh Deri will sign a directive on Tuesday morning to permanently ban airborne fireworks, which have been used by Palestinians during clashes with Israeli policeman and security forces.

The directive comes at the urging of Public Security Minister Gilad Erdan and high-level police officials. Deri will ban all shipments of airborne fireworks of the type that have been fired at security forces on the Temple Mount and in East Jerusalem neighborhoods.

Fireworks

The ban represents an escalation in the government's battle against the phenomenon, as only temporary bans have been issued over the last year. Deri is set to sign the directive due to the continuation of the attacks on Israeli police, and in light of opposition from some officials within the Economy Ministry.

In a letter to MK Eitan Cabel, head of the finance committee, Deri pointed out that the decision to use his authority on the issue derives from "the request of the Public Security Minister, Israeli Police, and other security officials, based on their expert opinions, and after examining an ensemble of considerations and balancing out various interests."

Erdan's initiative is based on, among others, the opinion of General Aharon Eskol, head of the The Israeli Police's Operations Directorate, which holds that these fireworks can cause serious injuries and burns.

Deri also wrote that "Their use by Palestinian rioters and demonstrators has wounded Israeli policemen in Jerusalem and the West Bank. This is an additional step in our all-out battle against Palestinian violence. In this situation saving lives and securing our policemen and soldiers outweigh any other considerations."

This will be Deri's last directive as Economy Minister before his resignation goes into effect, and it will not affect the import of other types of fireworks to Israel.