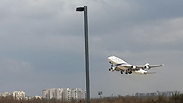 A Wizz Air flight was forced to slam on its brakes after two logistics vehicles crossed the runway during its takeoff roll at Ben Gurion airport on Tuesday.

The low cost airline's flight was set to depart Tel Aviv and head for Budapest before the pilot was forced to abort the takeoff. "The pilot suddenly slammed on the brakes and everyone was thrown in their seats," one of the passengers said. The plane was forced to return to the parking area for a tire and break inspection before it took off. The Airbus 320 was carrying 160 passengers and crew members on board.

The truck incident

"Two trucks suddenly crossed the runway, it was scary," one of the passengers said. "The pilot squeezed the breaks and the plane came to a sudden stop. Passengers were thrown from side to side. After a few moments the pilot announced that he was forced to return to the gate because a vehicle cut him off on takeoff."

The aborted takeoff was the second serious incident to take place at the airport's closed territory this week. On Sunday, two vehicles collided on one of the roads within the airport after one of the drivers apparently fell asleep at the wheel. Security footage of the incident shows the vehicle sliding into the opposing lane before smashing into an oncoming car. Two drivers were injured in the incident. Police opened an investigation. The accident took place in the Shakim zone, which is far away from the takeoff and landing runways.

The Israel airport authority stated in response: "At 11:15am a Wizz Air plane aborted its takeoff at Ben Gurion's runway 12 due to an incursion by two work vehicles, which were working on the runways. The incident is under investigation by the authorities' security division."