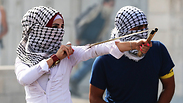 Police data obtained by Ynet, has indicated an unprecedented amount of suspects detained and indictments served on charges of participation in riots across the country since Rosh Hashanah: 437 indictments were served for throwing stones, petrol bombs, and shooting fireworks.

.

During the last three weeks there has been a significant decrease in the amount of stabbing attacks in Jerusalem, moreover, there has been a downturn in the amount of rioting in the city. Police officials are reluctant to declare a return of calm, but say that it is quite possible that a series of actions carried out in the capital - may have begun to bear fruit.

According to the data, since the terrorist attack on the eve of Rosh Hashanah in which Alexander Levlovitz was murdered, 1,632 suspects across the country were investigated for participation in riots of whom 1,553 were detained. Since the beginning of the current wave of terror, the highest rate of detention was recorded in Jerusalem, in which 797 terror suspects were arrested - most of them from East Jerusalem. During this period of time, West Bank police investigated 499 suspects for being involved in disturbances and Northern District police arrested 177 suspects for questioning.

The high number of arrests led to a significant amount of indictments. Since Rosh Hashanah 120 indictments were served to those involved in riots in Jerusalem and 237 indictments were served on similar charges in the West Bank.

The intensive arrest activity was made possible after six special investigation teams from around the country were deployed to Jerusalem for an investigative effort that lasted ten days. "We took a chief superintendent with investigators from each district and brought them to Jerusalem. They are working in coordination with the Shin Bet and with the Central District's minority division," said Acting Police Commissioner Benzi Sau at a recent press briefing.

.

Since the terrorist attack in Jerusalem's central bus station on October 15, in which a 68-year-old woman was moderately wounded, only one terrorist managed to carry out a stabbing attack in the city. Last Friday a Palestinian terrorist stabbed a young man near Ammunition Hill wounding him lightly to moderately. On Monday, a Palestinian from Jabal Mukaber attacked a Jewish tour guide with a bottle near Jaffa Gate wounding her lightly.

Apart from this, several stabbing attacks were thwarted in Jerusalem. On October 17 a terrorist was killed when he tried to stab a police officer at Armon Hanatziv in East Jerusalem. In the other cases there was no need for shooting and Palestinian suspects were arrested carrying knives.