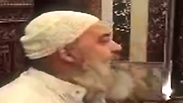 Sheikh Khaled Al Mughrabi.
Jerusalem District Police arrested Sheikh Khaled Al Mughrabi on Wednesday morning, after videos of his sermons raised suspicions of incitment.

The sheikh gives sermons twice a week at the Temple Mount and Al-Aqsa Mosque and previous complaints filed against him claimed that he was inciting worshippers to attack Jews.

Honenu, a right-wing legal aid organization, was among those who submitted complaints. In August 2015, the organization received a letter from the deputy commander of the David District Police, Erez Tavor, which stated that the sheikh was arrested and questioned. The letter continued that the case had been passed on to the district prosecutor for an evidentiary hearing, but no indictment has been filed since.

Recordings of the sermons were shared across Palestinian social media platforms and seem to show that the sheikh has continued in the same vein. One of the sermons, which was posted on the website "Palestinian Media Watch" and later transferred to police, showed him saying: "We will pursue the Jews everywhere. They won't escape us. The sons of Israel will all be killed."

Honenu praised the arrest: "We are happy that the inciting sheikh was finally arrested and hope that a serious indictment will be filed immediately. It cannot be that a young Jewish man is arrested and immediately banned from the Temple Mount for praying, while Islamic leaders incite against the Jews uninterrupted."