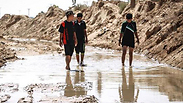 Mahmoud Bakeer speaks with despair about the night of the flash flood, when he screamed at his wife and five children to flee their home on Gaza's border with Egypt as the water rushed in.

They made it to safety during the flooding last week, but a network of Palestinian tunnels running under the frontier town of Rafah is now water-logged, destroyed by Cairo to sever what it says is a weapons smuggling route out of Gaza for Islamist insurgents in Egypt's Sinai desert.

For Bakeer, 61, the fact that Egypt, once a gateway to the world for Gaza's 1.8 million Palestinians, was behind his family's suffering, was particularly painful.

"We respect our neighbors, we love Egypt, but our neighbours are making our life harder," he said in his one-storey unfinished cinder block house, around which water seeps and cracks in the ground are growing wider.

Flooding the tunnels

Egypt's pumping of salt water from the nearby Mediterranean into the tunnels is not only creating a mess as it rises to the surface. Palestinian officials say it is also contaminating water supplies as well as threatening to wreck farmland and spread disease.

Local residents say that at the peak of the tunnel business, after Hamas Islamists seized the Gaza Strip in 2007 and Israel tightened a closure of its crossings into the enclave, nearly 2,500 underground passages snaked under the border with Egypt.

The direction of traffic was mainly into Gaza. Commercial goods - and weapons smuggled in separate tunnels controlled by Hamas and other militant factions - flowed in defiance of what Palestinians and many of their supporters decried as neighboring Israel's "siege".



In 2008-10, some tunnel owners were said to have become dollar millionaires as they shifted everything from Hummer vehicles and washing machines to cows and sheep through the underground system. Hamas imposed a tax on shipments.

At one point an estimated 22,000 Palestinians worked in the tunnel "industry". However, it shrank markedly in 2010 after Israel, under international pressure to ease restrictions on commercial imports into Gaza, allowed more goods in through its overland crossings.

Then this September, battling an insurgency in northern Sinai, Egypt decided to shut down the tunnels once and for all. Determined to halt what it said was an arms flow in the opposite direction, from Gaza to the militants, it cleared the area on its side of the border and began pumping water into the underground maze, collapsing the land.

Tunnel-builders said Egypt has pumped in water several times since September, and that over the course of a few weeks had done more damage to the network, which once accounted for an estimated 30 percent of Gaza's imports, than Israeli bombing had caused over the past two decades.

Now, the diggers said, fewer than 20 tunnels remain for commercial goods, with easy-to-smuggle cigarettes the main contraband. No one can, or will, say how many weapons tunnels remain - a secret that is guarded by Hamas and other armed groups, which last fought a war with Israel in 2014.
Muddy Mess
What is left is an environmental mess, residents and local officials said, with the sea water polluting underground drinking reserves. The overflow has reached streets and homes within 100 meters (yards) of the border fence. Vast puddles and mud are everywhere.

"One cubic meter of sea water pollutes 40 cubic meters of underground water," said Tamer al-Sleibi, water department director in the Palestinian Environment Quality Authority in Gaza, who is concerned about long-term environmental damage.

Egypt's campaign, he said, could weaken the foundations of homes already on shaky ground due to tunnel-building and make land unfit for agriculture in areas near the frontier. There is also a health risk as the water turns stagnant, allowing mosquitoes and other disease carriers to breed.

Rafah Mayor Subhy Rudwan said the six wells that serve the city of 230,000 are threatened with contamination. "We are monitoring the situation along the border closely and we have noticed some collapses of ground in some areas," he said.

Last Friday, Rudwan said, Egyptian forces pumped in sea water from morning to night. "If they continue to do it, the lives and residence of people in the border area will be in danger, and they might be forced to quit their houses. We have appealed to Egypt to stop the flooding," he said.

Hamas leaders have rejected Cairo's allegations that it meddles in Egyptian affairs and that it has an armed presence outside Gaza. Representatives of the group have met Egyptian officials but failed to persuade them to turn off the taps.

In the tunnel zone, workers now move mud out of the once busy hub that provided a lifeline for Gaza's inhabitants. The border crossing with Egypt has been largely closed by the Western-backed government in Cairo.

One tunnel owner said it had cost him $200,000 to build the structure, and the flooding had forced him to cut his workforce of 54 to only eight. "We bring in cigarettes for a few days a month and we spend the rest of the days clearing the mud," he said, asking not to be identified.