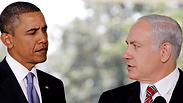 President Obama and Prime Minister Netanyahu
Photo: Reuters
Israel has asked the United States to raise the amount of the annual defense aid from the current 3 billion dollars to 5 billion dollars, an American source revealed to Reuters.

According to the report, Israel is interested in annual aid package of 5 billion dollars for a decade - that is 50 billion dollars.

But US officials argue that the aid would be higher but less than what is requested by Israel. According to Reuters, a US official estimated that the Obama administration will compromise with Netanyahu for an amount ranging between 4 and 5 billion dollars. Before the crisis regarding the nuclear deal with Iran, Israeli and American officials discussed raising the amount of the package to 3.7 to 3.6 billion dollars.

Israel's request is intended to deal with future threats given the current instability of the Middle East and the threats posed by Iran and by terrorist organizations. "Israel claims that Iran's economic prosperity due to the removal of sanctions will allow it to increase its support to organizations hostile to Israel in Syria, Lebanon and the Palestinian territories; Washington say this concern is exaggerated," according to Reuters.

As recently reported by ynet, Israel's government has recently presented to the US government a list of requests for special military equipment for the next twenty years.

Among these requests are squadrons of F-15 stealth fighter jets beyond the F-35 squadrons the Americans have already promised. The Israeli list also includes the V-22 Osprey aircraft-helicopter, helicopters, refueling aircraft, precision weapons and a large amount of Arrow 3 missiles designed to intercept ballistic missiles outside the atmosphere as an additional layer of protection to the Arrow 2. It is important to note that beyond the aid package, Israel receives additional funding specifically earmarked for missile defense via another budget.

Israel's official request has not yet been presented by the government to Congress, according to Reuters. "First they have to negotiate with the White House," a Congress official stated. Israel's request will be discussed for the first time between President Barack Obama and Prime Minister Benjamin Netanyahu at their meeting at the White House expected next Monday.