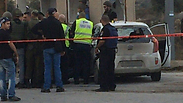 פיגוע דריסה צומת תפוח
Photo: TPS
Six Israelis were wounded in three separate terror attacks in the West Bank on Sunday, all happening within the span of a few hours.
Four pedestrians were wounded in a morning vehicular attack at the Tapuah Junction. Two people in their 20s were wounded moderately and seriously while a pregnant woman was lightly hurt. Another woman suffered light-to-moderate wounds.
Security footage shows Tapuah Junction attack
The terrorist drove rapidly towards a group of Israelis standing at a hitchhiking station before running them over. Two Border Police officers permanently stationed at the junction shot at the assailant, who ran into a concrete barrier, and killed him. He was identified at Sulemain Shaheen, 22, of Ramallah.
Less than two hours later, one person was lightly wounded in a stabbing attack at the entrance to the settlement of Beitar Illit in Gush Etzion. The attacker was shot and wounded.
The stabbing at Beitar Illit (מחלקת ביטחון ביתר עלית)
Less than two hours after the Beitar Illit attack, a 48-year-old man was stabbed and severely wounded in the town of Nabi Ilyas, near the settlement Alfei Menashe. The town is located near a busy road, and many Jews shop there. During initial questioning, the victim said he had stopped to shop in the town and was attacked by two terrorists while standing at a stall.
Four Israelis were wounded in three separate West Bank terror attacks on Friday, while another attack was averted when the perpetrator was shot dead. An Israeli was stabbed near Sha'ar Binyamin, two were shot near Hebron's Cave of the Patriarchs, another was shot near Hebron, and a Palestinian 72-year-old widow was shot dead when she tried to run soldiers over with a car.