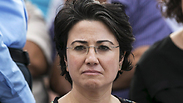 MK Haneen Zoabi
Photo: Reuters
Joint Arab List MK Haneen Zoabi delivered a speech of incitement on Sunday night in the Netherlands, equating the pogroms that led to the Holocaust to violence perpetrated against the Palestinians in Israel.

"During Kristallnacht, thousands of businesses and hundreds of synagogues were ruined and burned down by German brown shirts. Perhaps the majority of Germans did not approve, but they kept quiet," she said, referring to the "Night of the Broken Glass," a large-scale pogrom in 1938 against Austrian and German Jews, which many historians consider the opening shot in the Nazi-led campaign to exterminate the Jews of Europe.

Some 400 Jews were murdered and 30,000 others expelled, some to extermination camps, during the night between November 9-10. In the days following the pogrom, the murder of Jews continued and according to estimates, some 1,400 people were killed.

"When in Israel two churches and tens of mosques are burned; and hundreds of Israeli supporters of Beitar shout 'death to the Arabs' after each soccer match; when a family is burned to death; when a 15-year-old boy is burned to death, the majority keeps quiet, although they are perhaps shocked," Zoabi continued.

Zoabi's full speech at the Kristallnacht event

She was invited to speak at a ceremony in Amsterdam to commemorate Kristallnacht, organized by the far-left Dutch group Platform Stop Racism and Exclusion.

Kristallnacht, Zoabi said, "did not come out of nowhere, it was the result of a development over time."

"And we can see a similar development happening in Israel over the last several years," she added.

She quoted comments made by Prime Minister Benjamin Netanyahu and Jerusalem Mayor Nir Barkat calling on Israeli civilians to carry weapons, saying such comments "justify the use of violence towards Palestinians. Yet the public keeps quiet. And slowly, step by step, the general public accepts what they hear day after day. The message is internalized until it becomes an accepted norm."

Zoabi's speech did not go smoothly, and several protests were made by members of the audience. Her microphone was also cut off for a short time. However, the applause she received was louder than the protests.

She also received roaring applause when declaring, "I'm Haneen Zoabi, I'm one of the 120,000 that Israel didn't expel from their homeland, Palestine, in 1948," even though she was born some 20 years later.

"Eighty-five percent of my people were expelled, in an ethnic cleansing and colonialist plan," she accused.

She concluded her speech by calling on the Dutch not to remain quiet. "During the last Gaza war, Israel has killed 1,700 Palestinians, 500 of them children. But the killing hasn't stopped. Each day Palestinians are killed... I call upon you not to be silent in the face of the grave crimes my people face."