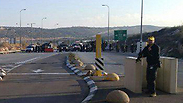 A woman carrying a suicide note allegedly tried to commit a stabbing attack at the Eliyahu crossing near the settlement of Alfei Menashe in the West Bank on Monday morning. She was killed on the scene by security forces.

A Defense Ministry spokeswoman said the female attacker arrived at the crossing on foot. Security guards there noticed her from afar and ordered her to stop, but she continued moving forward.

They then fired a warning shot in the air. According to the spokesperson, she then pulled out a knife from her bag and the guards then shot her. She was declared dead at the scene and a suicide note was found on her person.

The suicide note did little to shed light on the woman's intentions, but she stated that "I'm doing this with a clear head. I can't bear what I see and I can't suffer anymore."

The note also included an apology to her family and made it clear that she did not plan on walking away from the incident alive.

Six Israelis were wounded in similar attacks on Sunday including an incident in which a resident of the settlement of Emmanuel came to the same crossing after having being stabbed in the stomach by two attackers.