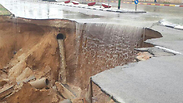 Collapsed street in Ashkelon
Heavy rain hit Israel Monday morning, but no city was hit harder than the southern city of Ashkelon, where the emergency room at Barzilai Medical Center was flooded and the roofs of parked vehicles could barely be glimpsed above the rising waters.

Even the most veteran doctors at Barzilai said they'd never seen such severe flooding which seeped into the hospital wards through the doors and windows.

Among the wards that were flooded were the emergency room, the NICU (neonatal intensive care unit), an operations room, the cafeteria, the Department for Obstetrics and Gynecology, the Pediatric Department and the hospital's main halls.

The flooding was caused by some 118mm of rain that were measured in the city in the morning hours (7am-12pm), overwhelming drainage systems and putting stress on the streets, even causing the partial collapse of Ben Yehuda Street.

According to the Israel Meteorological Service, 92mm of rain fell in Ashkelon in one hour - a record amount for one hour. The previous record was set in October of 2008 in Haifa, where 88mm of rain fell in one hour.

Ashkelon noted another rainfall record when 67mm of rain were measured in half an hour.

Ben Yehuda Street

Flooding

The new floods and heavy rains came just days after the end of a long week of intense weather in Israel that made October one of the wettest in the country's history.