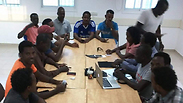 Asylum seekers in detention
The Be'er Sheva District Court Monday rejected an appeal by human rights organizations against the Interior Ministry's policy allowing unlimited detention in Sahoronim prison of asylum seekers who refuse to leave Israel to a third country.

The policy was set last April by former Interior Minister Gilad Erdan. Justice Minister Ayelet Shaked and Interior Minister Silvan Shalom welcomed the court's decision.

In April former interior minister Gilad Erdan and The Administration of Border Crossings, Population and Immigration announced that anyone who did not submit an application for asylum or anyone whose application was rejected, would be required to leave Israel within the framework of the procedure known as "voluntary departure." If the person did not agree they would be imprisoned indefinitely without trial at Saharonim Prison, based on Israel's entry law.

The court ruled that agreements regarding the transfer of asylum seekers from one country to another are possible under international law, provided that they guarantee the basic rights of those expelled. In light of this test, the court found no fault in the agreements signed by Israel.

Judge Rachel Barkai ruled that the petitioners failed to prove "that third countries (to which they would be expelled) are countries which would pose a danger to their liberty and security, and the cases brought before me do not reflect an objective situation of expelled individuals exposed to abuse or persecution on the part of those countries."
Petitioners: Unlimited imprisonment of the innocent
The petitioners, including members of the Refugee Rights Program at Tel Aviv University and human rights organizations, expressed dismay at the court's decision stating that, "the court did not give sufficient weight to the evidence presented before it and instead approved a policy based on the a confidential arrangement, which has no parallel in the world. An abundance of evidence presented to the court taught that it leads to serious harm to people who were sent to Rwanda."
They also warned that "while the state guaranteed that those sent to Rwanda would be able to stay there and work, it turns out that they do not receive anything, are placed in an enclosed area and their only choice is to be illegally smuggled to Uganda. The ruling could lead to the indefinite imprisonment of masses of innocent people just because of their fear to go to Rwanda, under conditions in which their status and security is not appropriately guaranteed."
The petition was submitted last July, after those detained at the Holot facility were told that they would be sent to Saharonim prison due to their refusal to go to Rwanda.
Justice Minister Ayelet Shaked responded by saying that "it has been a long time since Israel's arms were tied with regard to resolving the difficult problem of illegal immigration. A breakthrough has been reached today that will allow Israel to transfer illegal immigrants to third countries. This is a fair and just decision. I welcome the decision of the Be'er Sheva District Court."