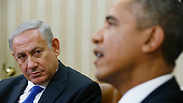 Netanyahu and Obama meet at the White House
Photo: AP
US President Barack Obama and Prime Minister Benjamin Netanyahu agreed on Monday to expedite talks on a new 10-year American military aid package for Israel, in an effort to finish negotiations before the end of Obama's term.
"You cannot compare the security needs we had in the previous decade to those we will face in the next," Netanyahu said following a meeting with Obama at the White House.
An American team will touch down in Israel at the beginning of December to start talks that are expected to last for several months. Talks were supposed to end in 2017, the deadline of the current military aid package, but the US president is interested in bringing them to completion before he leaves office in 14 months.
"A lot of our time will be spent on a memorandum of understanding that we can potentially negotiate. It will be expiring in a couple of years, but we want to get a head start on that to make sure that both the United States and Israel can plan effectively for our defense needs going forward," the US president said in public comments ahead of the meeting.
"This is an important process that was supposed to end in 2017, and I greatly appreciate Obama's willingness to complete the process before the end of his term," Netanyahu said following the meeting.
The current military aid to Israel, the prime minister noted, was half of American military aid to South Korea.
Netanyahu and Obama made public comments ahead of meeting (צילום: רויטרס)
US officials said that while they did not expect Monday's talks to result in a final agreement, it was significant that the leaders planned to discuss the matter given that Netanyahu had refused to do so in the immediate aftermath of the nuclear agreement.
"We do believe it's very important that in an uncertain security environment, we are signaling our long-term commitment to Israel and its security, and are designing a package that is tailored to the threats and challenges that Israel will be facing over the course of the next decade," said Ben Rhodes, Obama's deputy national security adviser.
Israel receives $3.1 billion from the United States annually and wants $5 billion per year for the next package, for a total of $50 billion over a decade, congressional officials have told Reuters. One US official predicted the sides would settle for an annual sum of $4 billion to $5 billion.
Good, constructive atmosphere
Netanyahu said there was a "good, constructive and very businesslike atmosphere" in his meeting with Obama - which lasted 45 minutes longer than planned.
"What you saw publicly was evident behind closed doors as well," he said. "The first and most important issue we discussed was the memorandum of understanding on American security aid to Israel. We didn't focus on the amount, but I presented our security and technological needs with regards to regional threats. We have ISIS in Sinai and spillover in the Golan Heights. President Obama is aware of these challenges, including the likelihood that the Russian plane was downed."
The two leaders also discussed the nuclear deal world powers signed with Iran, a point of great contention between them.
Netanyahu said both the Israeli government and the American administration shared a common interest - stopping Iran from obtaining nuclear weapons. "We discussed our shared vision on Iran. The agreement is in the past. We're looking forward," he said. "It was a calm dialogue - both in tone and in substance. 'Let's see what we can do,' rather than 'let's see how we can argue.'"
Earlier, in comments to the press ahead of the meeting, the two leaders largely sidestepped the Iran nuclear issue.
"It's no secret that the prime minister and I have had a strong disagreement on this narrow issue," Obama said of the nuclear deal signed between Tehran and world powers. "But we don't have a disagreement on the need to make sure that Iran does not get a nuclear weapon, and we don't have a disagreement about the importance of us blunting destabilizing activities that may be taking place in Iran. And so, we're going to be looking to make sure that we find common ground there."
Netanyahu, meanwhile, made no mention of the Iran issue in his public comments.
During their meeting, Obama and Netanyahu also talked at length about the situation in Syria. "We won't allow Iran to open a second front in the Golan Heights, and we will disrupt any weapon transfers from Syria to Lebanon," the prime minister said.
"We cannot accept an agreement in Syria that leaves it as an arena of Iranian attacks against Israel. When discussing a solution in Syria, it must include the cessation of direct attacks against Israel," Netanyahu continued, adding that he and the US president have "agreed on strategic cooperation in intelligence, as well as to examine a series of cooperations that the new reality dictates."
Netanyahu and Obama mostly exchanged platitudes in what was their first face-to-face meeting in over a year on Monday. The prime minister declared he has not given up on peace with the Palestinians, while the American president stressed that Israel's security is one of his top foreign policy priorities.
Speaking to reporters ahead of their meeting, Obama said he would seek Netanyahu's thoughts on ways to lower tensions between Israelis and Palestinians and get the parties "back on a path towards peace."
"I want to be very clear that we condemn in the strongest terms Palestinian violence against innocent Israeli citizens. And I want to repeat, once again, it is my strong belief that Israel has not just the right, but the obligation to protect itself," Obama said.
"I want to make it clear we haven't given up on our hope for peace," Netanyahu told Obama, stressing he supports a two-state solution, with a demilitarized Palestinian state that recognizes the Jewish state.
But despite Netanyahu's statement on Israel's commitment to peace, US officials said Obama has given up hope on reaching a peace accord before the end of his term. The White House also issued a statement to the same end after the meeting.
"The president has reached the conclusion that right now - barring a major shift - the parties are not going to be in a position to negotiate a final status agreement," White House Middle East Adviser Rob Malley said ahead of Netanyahu's arrival in Washington.
Minister Silvan Shalom, Netanyahu's designated negotiator with the Palestinians, said in a radio interview that the prime minister would offer a number of confidence-building gestures toward the Palestinians, including easing restrictions on communications, water usage, work permits in Israel and Palestinian development in the West Bank.
While Obama's predecessors have also been unable to bring the two parties together, the frankness of the White House's admission was still striking.
Netanyahu is also seeking to use his visit to patch up relations with some Democrats, who felt his fight against the Iran deal damaged the bipartisan consensus in Congress on Israel's security, and to heal a rift with more liberal segments of the American Jewish community.
He was due to address the conservative American Enterprise Institute on Monday as well as the liberal Center for American Progress on Tuesday.
The Associated Press and Reuters contributed to this report.