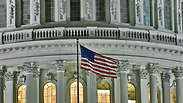 US capitol building
Photo: AFP
WASHINGTON - Three dozen US senators sent on Tuesday a missive to the European Union expressing concern over plans to label products manufactured in West Bank settlements.
The letter, signed by both Republicans and Democrats, described Israel as "a key ally and the only true democracy in the Middle East".
The dispatch, addressed to EU foreign policy chief Federica Mogherini, followed the EU vote in September that ended in a 525-70 decision in favor of labeling products. Prime Minister Netanyahu said then that "we already have a historical memory of what happened when Europeans labeled Jewish products".
Senators Ted Cruz, who is currently in the running for the Republican presidential nominee, and Kristen Gillibrand, a Democrat, spearheaded the statement.
"As allies, elected representatives of the American people, and strong supporters of Israel, we urge you not to implement this labeling policy, which appears intended to discourage Europeans from purchasing these products and promote a de-facto boycott of Israel," wrote the senators.
The bipartisan group of senators argued that the plan sets "troubling precedent" that "play(s) into the narrative of the Boycott, Divestment, and Sanction (BDS) movement, which is an effort to delegitimize Israel rather than promote a resolution of outstanding issues between Israel and the Palestinians."
The senators also implied that the labeling initiative will lead to problems in advancing negotiations between the US and the EU aiming for a mutual cancelation of customs taxes, which the EU has long tried to push forward. They noted the legislation passed by Congress this year to discourage Europe from boycotting and sanctioning Israel.
Parliamentary delegations traveled to Europe this week to battle the labeling initiative, projecting a clear message: labeling will lead to thousands of Palestinians losing their jobs, represents a reward for terrorism and encourages boycotts of Israel. Israeli officials also intend to remind Europeans that labeling of products "raises painful memories of Europe".
Deputy Foreign Minister Tzipi Hotovely said the labeling plan "is clearly a delegitimizing of all of Israel. We don't see a difference in this context between the industrial area in Barkan and the industrial part of Haifa or Ashdod. As far as we're concerned, all of Israel faces the threat of boycott."