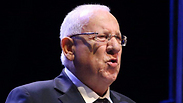 President Reuven Rivlin
Photo: Moti Kimchi
The Israeli Democracy Index 2015 released Tuesday by the Israeli Democracy Institute (IDI) revealed, among other things, the deepening divide between Israel's Jewish and Arab citizens.
The Index, delivered to President Reuven Rivlin by the IDI's President, Yohanan Plesner, was based on a sample of 1,019 respondents.
The peak of social tension - between Jews and Arabs
Forty-seven percent said that the most powerful tension in Israeli society is that between Jews and Arabs; in second place is the tension between the Left and the Right, with 18 percent choosing this as the biggest conflict. Forty-two percent of Jews believe that most Israeli Arabs have not accepted Israel's existence and support its elimination.
Meanwhile, 37.5 percent of Jews argued that the government should encourage Arab emigration from Israel. Moreover, 60 percent of Jews favor revoking the voting rights of those who don't declare their loyalty to Israel as a Jewish state and serve in the IDF or do national service.
Fifty-four percent of Jews support the equitable allocation of budgets to Arab communities. In addition, 78 percent of Jews say that it doesn't matter whether they receive treatment from a Jewish or an Arab doctor (the Arab public figure stands at 91 percent). On the other hand, 67 percent of Arabs do not feel part of Israel and its problems.
Seventy-six percent of Arabs think that they can feel an integral part of the Palestinian people while being loyal citizens of Israel, while 55.5 percent of Jews do not believe this is possible.
Eighty-five percent of Arabs would like to see Arab parties joining the government, while only 35 percent of Jews support it. In the same vein, 73.5 percent of Jews think that critical state decisions on peace and security should be made by a Jewish majority.
On the subject of mixed marriages, an almost equal percentage of Jews and Arabs expressed strong opposition - saying that they support the activities of organizations such as Lehava that use violent, even illegal means to prevent intermarriage. Thirty-seven percent of Jews were in favor of such actions, as were 39 percent of Arabs.
Don't want an Arab neighbor
Results suggested that Israeli society is ambivalent regarding living next to people from different populations or those with disabilities. Of those surveyed, 43.5 percent would not agree to have foreign workers as neighbors and 30 percent were unwilling to have rehabilitating mental patients as neighbors.
Twenty-four percent would not want to live near the ultra-Orthodox and 22 percent would not want to live near a same-sex couple. Regarding Jewish-Arab relations the situation is also not encouraging: 36 percent of Jews would not want to live next door to Arabs, and the same percentage of Arabs would not want to live next door to Jews.
Trust in institutions
The IDF enjoyed the highest level of trust among the Jewish public, with a 93.4 percent vote of confidence. Among Arabs, Israel's healthcare management organizations won the biggest vote - 82.2 percent said they have faith in HMOs.
However, a significant proportion of the Israeli public believes that government corruption is common: 45.4 percent of Jews think the government is corrupt, as do 60.8 percent of Arabs. Consequently, only 36.2 percent of Israelis trust the government.
A Jewish or democratic state?
Jewish citizens are almost evenly split over what they consider the most important defining aspect of the state: 36.5 percent said that defining the state as Jewish was most important, while 35.5 percent said that defining it as democratic was most important. Twenty-seven percent said that the two definitions were equally important.
Also on the subject of democracy, the majority of the public - 56 percent - is opposed to the Supreme Court being stripped of its authority to overturn laws passed by the Knesset.
Regarding freedom of expression, 70.4 percent of Israelis (69.2 percent of Jews and 76.2 percent of Arabs) were opposed to the idea of Israelis being legally prohibited from criticizing the state in public. However, 59.1 percent of the Jewish public think the state should be allowed to monitor what citizens post online in the interests of national security.
Eighty-four percent of those surveyed, Arabs and Jews alike, would prefer to stay in the country even if they receive citizenship for the US or any other Western country. And 75 percent of respondents (65 percent among Arabs) think their personal situation is good.
Professor Tamar Hermann, academic director of IDI's Guttman Center for Surveys, said that "what we found from the research is that Israel appears more democratic than it actually is."
President Reuven Rivlin stated that "the strength of the people of Israel, the existence of Israeli democracy, is not inherent. It is on us to forever strengthen it, to continue to strive for true democracy in Israel. … Even in these difficult days, it is forbidden for us to forget that the war at home will only pass when we struggle with how to live together, continue to dialogue, and to defend the arc of trust and ideas."