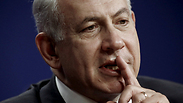 Netanyahu at the Center for American Progress think tank in Washington
Photo: Reuters
Prime Minister Benjamin Netanyahu said Tuesday that he is not ruling out a unilateral Israeli withdrawal of the West Bank.

Responding to questions at the Center for American Progress think tank in Washington, Netanyahu said a negotiated peace deal would be better than unilateral steps by Israel to impose a solution to the conflict. But he indicated a unilateral approach might be possible under the right conditions.

"Unilateralism ... I suppose that's possible, too, but it would have to meet Israeli security criteria and that would also require, I think, a broader international understanding than exists now," he said.

However, the prime minister stressed, even if Israel does pull out of the West Bank - whether as a result of an agreement or in a unilateral move - it will have to keep its security presence in the territories.

He gave as an example the 2005 Gaza disengagement, as well as Israel's pullout from southern Lebanon, noting that even though Israel had left "every square inch," these territories were taken over by Iran proxies - Hamas in Gaza and Hezbollah in Lebanon - and turned into launching pads for thousands rockets.

"So Israelis ask a simple question, which I ask: If we set up a Palestinian state, how do we make sure that state does not become another Gaza, and is not committed to our destruction?"

Netanyahu in Washington:

Palestinians oppose Israel's demand to maintain security presence in the territories because they see it as blocking a "fully sovereign" Palestinian state, Netanyahu said. But he cited World War II losers, Germany and Japan, and South Korea, as countries that prospered under foreign security control.

He didn't say if Israel could eventually relinquish security control west of the Jordan River - part of past US peace plans.

Netanyahu also stated that "the question of Jerusalem and specifically the Temple Mount is unsolvable" at present.

When asked about the chances of reaching peace with the Palestinians, Netanyahu said he does not see mutual recognition and agreements over security arrangements happening in the immediate future.

"I don't think the Palestinians will necessarily accept it by themselves, but I think because of the change that is happening in the region, it might be that leading Arab countries might encourage a future Palestinian leadership, or even this one, to accept that kind of deal. And if that happens, I think Israelis would go for it," he said.

The prime minister once again dismissed the issue of settlement expansion as an obstacle for peace, saying "The total amount of built-up land is just a few percent, and the addition, if you look it up over time, has got to be a fraction. Maybe one tenth of one percent, maybe three-tenths of one percent."

He also argued that the governments of Ehud Barak, Ariel Sharon and Ehud Olmert all built more housing units a year in the settlements than his own governments.

Netanyahu went on to say that the conflict started in 1920, detailing violent attacks that proceeded the 1967 Six-Day War, in which Israel captured the West Bank.

"This was 47 years, from 1920 to 1967. Half a century. What's the root cause of this? Can't be the settlements, it can't be the territories, because there weren't any," he said.

A group of pro-Palestinian protesters picketed outside the building where he spoke, and Netanyahu acknowledged his visit had been "a source of some controversy."

But while the prime minister is in the US, Jerusalem's committee for planning and construction is expected to approve on Wednesday the building of 891 new housing units in the neighborhood of Gilo, which is located beyond the Green Line.

The plan will see the construction of new homes in an empty area between Gilo and the Palestinian village of Beit Jala.

The area is under ownership of several bodies, including the Israel Land Administration and KKL-JNF. In order to issue a building permit, all plots will have to come under one ownership, and then be re-divided.

The plan was submitted and approved in 2013, but the planning was stopped as a result of the unofficial construction freeze in Jerusalem. After the committee approves the re-division of the plots, it will essentially green light the project, allowing it to move forward.

The Jerusalem municipality said in response: "This is not an approval of construction plans, as the plans have been approved two years ago in a district committee. This is a strictly technical process of correcting the internal borders of the plots."
Making good with the Democrats
Netanyahu also met with members of Congress, where he stressed that Israel must be able to defend itself, by itself. This includes threats from any territory Israel relinquishes, including hundreds of miles (kilometers) of borders subject to potential tunneling.

After an hour-long meeting with senators, Democratic Sen. Dick Durbin said Netanyahu planned to meet on Wednesday with Secretary of State Kerry and that the peace effort would be on their agenda.

US-Israel relations were seriously strained by the nuclear deal that the US and its partners signed with Iran, which will receive relief from sanctions in exchange for curtailing its nuclear program.

"We didn't dwell on the Iran nuclear agreement. Talked about it. But didn't dwell on it," said Durbin. "This was an important step back into a bipartisan relationship."

"We have to have more dialogue and more understanding as to the current security challenges facing Israel. ... As important as I believe the Iran nuclear agreement was, it doesn't make Israel a safe nation. It is still in danger," Durbin said.

"He talked about the current threats from Iran and they are substantial."

In the wake of the nuclear agreement, the Obama administration is considering increasing the amount of security assistance to Israel. Annual US aid to Israel currently exceeds $3 billion a year.

Republican Sen. Bob Corker, chairman of the Senate Foreign Relations Committee, said no dollar amount was discussed at the meeting.

He played down any rift Netanyahu has with Congress, saying those senators who voted for the Iran nuclear deal went out of their way at the meeting to explain to Netanyahu that there is bipartisan support for Israel in Congress. According to Corker, Netanyahu said he knew that.

Yael Friedson, Roi Yanovsky, Reuters and the Associated Press contributed to this report.