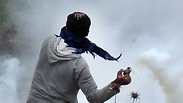 A Palestinian throwing stones during a riot near Al-Bureij in Gaza.
Photo: AP
Eleven people were killed and 80 wounded during a bloody month that also saw 609 attacks carried out, according to data on the wave of terror published by the Shin Bet on Wednesday.

According to the statistics, which cover the month of October, the deadly terror attacks took place in Jerusalem, the West Bank and areas inside the Green Line. Among the dead were 10 Israelis and one foreign citizen.

Among the wounded, 26 were Israelis (18 civilians and 18 members of security forces) who were moderately injured or worse.

The statistics also showed that four Israelis were killed in shooting attacks, five in shooting and stabbing attacks in Jerusalem and one in a vehicular attack.

The Shin Bet's data also showed that four terror attacks were carried out by Jews: two arson attacks on Palestinian vehicles and two stabbing attacks.

The breakdown of the data on terror attacks revealed that 11 of them occurred in the area of the Gaza Strip (compared to four in September), 485 in the West Bank (151 in September), 117 in Jerusalem (68 in September) and seven in areas inside the Green Line (compared to none in September).

The attacks that came from the Gaza Strip included five incidents of rocket fire (seven rockets in total), four incidents of sniper fire, one incident of an anti-tank missile being fired and one incident of a Molotov cocktail being thrown.

The Jerusalem and West Bank-based attacks included 36 stabbings, 23 shootings with a light weapon, 57 incidents involving an explosive device, three vehicular attacks, one explosion of a gas canister and 482 incidents of Molotov cocktail-throwing.

Inside the Green Line, six stabbings attacks occurred along with one shooting with a light weapon.