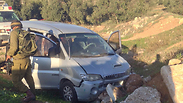 Vehicle that was fired upon.
Unknown individuals shot at Israeli vehicles on Friday afternoon near the West Bank settlement of Otniel.
Two people were killed - a man in his 40s and a male around 18 years old. Reports after the attack claimed that the pair were father and son. A 16-year-old family member in the car was also moderately wounded.
A female was lightly wounded and three young girls, all in the same family, were also in the vehicle at the time of the attack.
The attackers fled and police have been searching the area. Police focused searches and checkpoints in the area of the Palestinian towns of as-Samu, Yatta and ad-Dhahiriya.
Otniel lies south of Mount Hebron.
Hamas released a statement just an hour after the incident, calling the attack "heroic."
Prime Minister Benjamin Netanyahu also addressed the attack in a statement vowing to bring those responsible to justice.
Meanwhile, Palestinian President Mahmoud Abbas held a joint press conference with Nicos Anastasiades, the president of Cyprus, and failed to condemn the attack, focusing instead on the economic situation in the West Bank and the EU's recent decision to label products made in Israeli settlements in the West Bank.
Confrontations between Palestinians and security forces occurred throughout the day in various locations in the West Bank. Clashes also occurred at the Gaza border.
IDF troops fired at three main instigators in violent riots that involved dozens of Palestinians. Two Palestinians were wounded when they were shot in the legs.