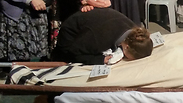 Family members mourn the victims at the funeral
Photo: Eli Mendelbaum
Israeli security forces arrested a suspect in the West Bank terror attack on Friday that claimed the lives of Rabbi Yaakov Litman and his son Netanel, it was cleared for publication on Sunday morning.

A joint operation by the Shin Bet and the IDF's Yehuda territorial brigade and the elite Duvdevan Unit led to the capture of the suspected perpetrator, along with additional suspects.

The suspect had the weapon used in the attack in his possession, as well as the vehicle he used to escape the scene. He tied himself to the attack in his initial Shin Bet questioning.

Duvdevan troops arrest suspected terrorist (צילום : דובר צה"ל)

Palestinian sources identified the suspect as Shadi Mutaweh from Hebron. The sources said Mutaweh's father and brother were also arrested, but later released.

Prime Minister Benjamin Netanyahu said on Sunday that the suspected terrorist ia a member of the Islamic Jihad.

"We will deal with the murderer to the fullest extent of the law and we will continue to fight terrorism to the utmost," the prime minister said.

Rabbi Yaakov Litman, 40, and Netanel Litman, were laid to rest on Saturday night. Hundreds of family and friends accompanied the father and son on their final journey, including President Reuven Rivlin, Jerusalem Mayor Nir Barkat, GOC Central Command Roni Numa, and Deputy Defense Minister Eli Ben-Dahan.

The two slain Israelis were on their way with their family to wedding preparations ahead of daughter Sarah Tehiya's wedding when terrorists opened fire at their vehicle near the West Bank settlement of Otniel. A third family member, 16, was lightly wounded in the attack. Three of the family's girls and the mother, who witnessed the father and son shot, were lightly hurt and suffering from shock.

"Father, where have you gone? I wanted you at my wedding, who will walk me to the Chuppah now?" Rabbi Litman's daughter, Sarah Tehiya, said in tears. "What a good father you were, so many students you had. Even when you were feeling unwell, you always went to school to do God's work."

Dvir, Rabbi Litman's son who was in the car at the time of the attack, also eulogized his father and brother. "Father, you rose early every morning, never missing God's work. You always taught us to love the land of Israel. Who will lead us now? Who will walk Sarah Tehiya to the Chuppah? How am I supposed to make Kiddush now? Everyone loved you. You were always welcoming to guests."

On his brother Netanel, Dvir said, "I mourn your loss, my brother. How can I say your name, Netanel Chai ('Netanel Lives')? You always had persistence. You never missed prayers. You were my older brother, helped me with every request. Who will help me now? You were dedicated to saving lives. Even when you saw father lie before you, you reported to Magen David Adom and said there's one casualty. You even managed to ask us if everything was okay. May you be of blessed memory."

President Rivlin also eulogized the father and son. "Dear Netanel, you wanted to be a doctor. As you did as a volunteer with Magen David Adom ambulances, during moments of pain and shock you continued to save lives, up to the moment of your death at the hands of evil murderers," he said.

"The scenes of death and bloodshed we have witnessed in Paris, throughout the Middle East, and here in our country, should serve as a warning to us all. Whether in Paris or Hebron, Jerusalem or New York, we must fight a bitter and stubborn struggle against those who massacre innocent people, against those who murder in cold-blood," the president continued.

Some of the attendees tried to interrupt Rivlin's eulogy, but were shushed by Sarah Tehiya's intended-groom.

Prime Minister Benjamin Netanyahu instructed the Foreign Ministry to protest to the Red Cross' headquarters in Geneva and ask them to demand explanations from the Red Crescent over the fact they failed to treat the Israeli wounded, despite arriving at the scene first.

"Israel will take all necessary sanctions against the Red Crescent," the Foreign Ministry said in a statement.

Elisha Ben Kimon, Yoav Zitun, Itamar Eichner and Elior Levy contributed to this report.