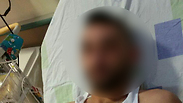 A security guard who was attacked after being mistaken for a terrorist recovers in hospital.
A security guard at a police facility in Kiryat Ata was attacked by taxi passengers on Saturday who he claims suspected he was a terrorist.
The guard, a Christian originally from Kafr Yasif in northern Israel who served in the IDF's Kfir Brigade, was set upon in the center of Kiryat Ata as he was on his way to work after visiting his girlfriend.
"A car was sitting in the middle of the road so I honked my horn and then got out of my car to see what was happening," the security guard said.
"A taxi driver passing by saw the crucifix in my car and started shouting: 'He's an Arab terrorist.' They then started beating me with everything they had: sticks, chains and knives," he continued.
"I shouted at them that I'm a police security guard but it didn't help. They continued beating me on my head and my shoulders. All over my body," the 23-year-old said.
Investigators at Zevulun District Police held one of the suspects in the attack for questioning while Nahariya police collected the security guard's testimony.
"I managed to push them away when I realized that if I didn't get out of the situation, I wouldn't get out alive," he continued. "I got into my car and drove, and ran into something. It was frightening."
When he arrived at his workplace, his car was taken to be checked by investigators.
In a statement, the police said that the young man had got out of his car and "asked the driver of the vehicle in front of him why he had stopped at the traffic light. The driver was alarmed and shouted 'terrorist.' According to the security guard, taxi passengers close by heard the shout and attacked him, lightly wounding him."
Paramedics from Magen David Adom and United Hatzalah arrived at the police station and treated the young man onsite. MDA paramedics then took him to the Western Galilee Hospital in Nahariya. He is suffering from bruising and injuries to his shoulders.
"It's just shocking what they did to him," said the security guard's mother. "Ten people thought he was a terrorist and fell on him with sticks and knives, wounding him on his head, his shoulders and all over his body.
"We're in shock. He served in the military and everything," the mother added.