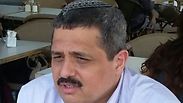 Roni Alsheikh
Photo: Eric Jurno
Incoming police commissioner Roni Alsheikh broke his leg when he tripped going down the stairs at his home in Giv'at Shmuel on Sunday morning.

As a result, the swearing-in ceremony for the new police chief has been postponed, the police spokesman said.

Alsheikh was taken to the Sheba Medical Center in Tel HaShomer, where he was admitted to the Orthopedics Department.

The 52-year-old former deputy Shin Bet chief was supposed to be sworn in as police chief later this week.

Maj.-Gen. Benzi Sau will continue serving as acting police chief until Alsheikh recovers.