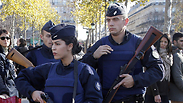 PARIS - French officials identified the suspected mastermind of Friday's string of unprecedented attacks in Paris as Belgian national Abdelhamid Abaaoud on Monday afternoon.

Authorities said that Abaaoud was also a suspect in thwarted attacks on a train and church and that he is currently located in Syria.

RTL radio in France reported that Abaaoud is "one of the most active ISIS executioners" in Syria.

Another main suspect thought to have participated in the attacks, 26-year-old Abdeslam Salah, remained free Monday morning after French media reports revealed that he had been questioned by police and then released just hours after Friday's attacks.

Salah was subsequently named as a "dangerous" suspect and authorities began a desperate manhunt to find the individual, who seems to have played an active logistical role in aiding the attackers.

In addition, German police detained an Algerian man in a refugee reception center in connection with the attacks, officials said on Monday.

The man, detained in the town of Arnsberg in western Germany, is being investigated on suspicion of having told Syrian refugees at the center in recent days that fear and terror would be spread in the French capital.

He is also alleged to have spoken about a bomb. The senior public prosecutor in Arnsberg, Werner Wolff, said checks were being made into whether the allegations were credible.

In addtion to declaring a state of emergency, French President Francois Hollande shocked the world by announcing the complete closure of the country's borders just after the attacks, apparently in an attempt to stop and capture Salah and any other fleeing suspects.

Raids were also conducted in 168 different locations across France in connection with the attacks and 104 people were placed under house arrest - a crackdown confirmed by Prime Minister Manuel Valls in an interview with RTL radio Monday morning.

Twenty-three related suspects were also arrested in Belgium where weapons were also seized.

Valls also said that French police had raided the homes of suspected Islamists overnight across the country.

Weapons, including rocket launchers, rifles and hand guns, had been confiscated during the raids in the southern city of Toulouse and Lyon.

The prime minister added that French intelligence services had prevented several attacks since the summer and that police knew other attacks were being prepared in France as well as in the rest of Europe.

"We are making use of the legal framework of the state of emergency to question people who are part of the radical jihadist movement...and all those who advocate hate of the republic," Valls said on RTL radio.

The state of emergency allows police to enforce curfews where and when needed, and to search homes at night.

It was also reported that Iraqi intelligence had warned France that the Islamic State was planning attacks against countries currently involved in a coalition that is conducting continual airstrikes against the group in Iraq and Syria.

A French security source told the Associated Press that such warnings are received on a regular basis.
Hollande urges united US-Russia assault on IS
Monday marked the first time in more than six years that a French president addressed both houses of parliament, as Francois Hollande spoke to parliamentarians at Versailles.
The president said France wants to unite with the US and Russia in a grand coalition dedicated to smashing the Islamic State group.
Hollande said the United States and Russia needed to set aside their policy divisions over Syria and "fight this terrorist army in a single coalition." He said he hoped to meet soon with US President Barack Obama and Russian leader Vladimir Putin, though he didn't specify whether they would all meet together.
Hollande said he would present a bill Wednesday seeking to extend the prevailing state of emergency -- granting the police and military greater powers of search and arrest, and local governments the right to suspend demonstrations and impose curfews -- for another three months.
Hollande also said that France will step up strikes in Syria where Friday's shootings and suicide bombings in Paris had been planned.
He also said France's constitution needed to be amended to better deal with crisis situations.
Hollande said he wanted French law to allow dual nationals to be stripped of their French citizenship if they were convicted of terrorism and dual nationals to be banned from entering France if they presented a "terrorism risk".
He also pledged to increase budgets for security forces and the army.
"That will lead to higher spending, which I take responsibility for," Hollande said.
"I consider that in these circumstances, the security pact prevails over the stability pact," he said, referring to the eurozone budget limits.
Reuters and the Associated Press contributed to this report.