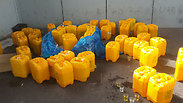 The security guards of the Defense Ministry's Border Crossings Authority and the inspectors of the David unit of the Israeli Civil Administration recently foiled the smuggling of hundreds of liters of a chemical used to manufacture rockets from Hebron to the Gaza Strip.

The material discovered was a TDI-type fuel, prohibited from entering the Gaza Strip, and is suspected to be intended for the production of rockets by Hamas and Islamic Jihad in Gaza.

Inspectors stopped a Palestinian truck from Hebron at the Tarqumyia crossing between the West Bank and Israel, which was supposed to deliver soybean oil to Hebron. The shipment aroused the suspicion of security personnel, who after checking the containers found an unknown material. Shin Bet officials and the David Unit carried out a preliminary investigation of those involved.

The shipment was confiscated and the material was sent for a lab test, where it became clear that the material in question was TDI used to make rocket fuel. Six pallets altogether were discovered containing about 450 liters of the hazardous material sufficient for the production of a large quantity of rockets of various types. The findings were transferred to security officials who launched an investigation of those involved.

Joint operations involving the Shin Bet, the Coordinator of Government Activities in the Territories

(COGAT), police, customs and the Defense Ministry's Crossings Authority have thwarted more than 500 attempts to smuggle illicit goods from Israel into the Gaza Strip since the beginning of 2015. In addition, more than 280 trucks have been confiscated since 2014.

Following broad action against transporters and warehouse owners in Israel, there has recently begun a phenomenon of attempts to smuggle contraband from areas controlled by the Palestinian Authority in the West Bank and the Gaza Strip by the implementation of sophisticated cover-up activities.

Security officials are working in a targeted manner against merchants and warehouse owners in the West Bank involved in smuggling, in order to address and eradicate this phenomenon which serves the terrorists in the Gaza Strip.