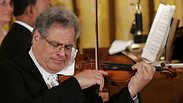 Itzhak Perlman. 'An important voice on behalf of persons with disabilities'
Photo: AFP
WASHINGTON - Shimon Peres, Natan Sharansky, Daniel Kahneman - and now Itzhak Perlman too. The famous Israeli violinist has been included among 17 recipients of the Presidential Medal of Freedom, the United States' highest civilian honor.

Perlman, 70, is the fourth Israeli to receive the presidential honor after former President Peres, Jewish Agency Chairman Sharansky and Nobel Prize laureate Kahneman.

The awards will be presented by US President Barack Obama at the White House on November 24 to "individuals who have made especially meritorious contributions to the security or national interests of the United States, to world peace, or to cultural or other significant public or private endeavors."

"A native of Israel," the White House statement said of Perlman, "he came to the United States at a young age and was introduced to Americans broadly when he appeared on the Ed Sullivan Show in 1958. Mr. Perlman made his Carnegie Hall debut in 1963 when he was 18.

Special Concert

(Video) Celebrated violinist, who was afflicted with viral disease when he was four, performs with New York Philharmonic as part of campaign to raise $200 million to fight sickness, which can cause paralysis or death.

"In addition to performing internationally and recording the classical music for which he is best known, Perlman has also played jazz, including an album made with jazz pianist Oscar Peterson. Perlman has been the soloist for a number of film scores such as 'Schindler's List,' which subsequently won an Academy Award for Best Original Score.

"Alongside his wife Toby, Mr. Perlman teaches talented young musicians through the Perlman Music Program. Through his advocacy and his example, he has been an important voice on behalf of persons with disabilities."

In addition to an Oscar, Perlman has also won 16 Grammy Awards and four Emmys.

Perlman will receive the Presidential Medal of Freedom alongside Jewish American film director Steven Spielberg, the creator of "Schindler's List" and the USC Shoah Foundation, an organization which documents Holocaust survivors' testimonies. Spielberg's films have been screened around the world and have grossed over $8.5 billion.

Another recipient is Jewish American singer and actress Barbra Streisand, the first woman to win a Golden Globe for Best Director for the motion picture "Yentl." She is one of the few performers to receive an Emmy, Grammy, Oscar, and a Tony.

Another recipient, who died recently, is Yogi Berra, who spent over 40 years as a professional baseball catcher, manager, and coach. "Always quick witted, Berra was famous for his 'Yogi-isms,' teaching us all that we can observe a lot just by watching," the White House said.