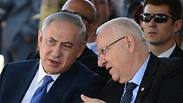 Netanyahu and Rivlin at the ceremony. (Photo: Herzl Yosef)
Prime Minister Benjamin Netanyahu on Wednesday lamented the fact that not only is Israel blamed for the terror perpetrated against its citizens, it is also blamed for terror attacks in Europe.
"It's one thing that they blame us, rather than the terrorists, for the terror against us, but the greater absurd is that we are being blame for the terror against the French - or such was the impression from the comments made by Sweden's foreign minister this week," Netanyahu said.
He called Swedish Foreign Minister Margot Wallstrom's comments, seemingly blaming Israel for terrorist acts, "Blindness."
Speaking at the annual remembrance ceremony for David Ben-Gurion, Israel's first prime minister, which took place near his gravesite in the Negev kibbutz of Sde Boker, Netanyahu said Israel was "fighting terrorists as Ben-Gurion did during the reprisal operations."
Netanyahu said that "like Ben-Gurion, we want peace. We want to return our sword to its scabbard. But when our choice is between living by the sword or living with an Islamist sword at our neck – we choose the first option."
Former president Shimon Peres also spoke at the ceremony, criticizing the country's current leadership. "Israel misses the national leadership of Ben-Gurion – a leadership that doesn't sell fear, a leadership that doesn't take foreign relations lightly, a leadership that keeps the people united, even when there are differences of opinion. A leadership that sows hopes of peace over all fields of life, in Israel and beyond."
Earlier this week, controversy broke when it became known that Netanyahu and the government's ministers would not be able to attend the ceremony, due to ongoing budgetary negotiations. In the end, it was decided that the negotiations would recess for two hours, allowing Netanyahu, Opposition Leader Herzog, and other MKs and government members to attend without worrying that they would miss any important votes.
President Reuven Rivlin also attended the ceremony, that commemorated Ben-Gurion's wife, Paula, as well.