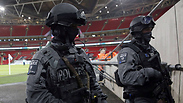 The financial cost of global terrorism last year (2014) stood at $52.9 billion and the number of deaths rose by about 80 percent, according to figures published on Tuesday by the Institute for Economics and Peace.
As the statistics do not include 2015, they cannot measure the cost of the high-casualty attacks that have occurred this year, including several at popular tourist destinations apparently meant to inflict economic as well as human damage.
According to the report, the economic cost of terrorism reached an all-time record and was 61 percent higher than the year before that, when the cost was $32.9 billion, and tenfold what it was in 2000.
Only days ago, coordinated terror attacks hit the French economy as hundreds of thousands of tourists canceled their visits. Consumer purchases also went down. France is the most popular tourist destination in the world; last year tourists spent $42 billion. The Egyptian economy has also been hurt by a drop in tourism since the crash of the Russian Metrojet plane in the Sinai last month.
Damage in Iraq and Syria resulting from fighting with ISIS has been estimated at $10 billion in the past two years alone. Hundreds of thousands of homes were destroyed and roads and bridges were heavily damaged, as was infrastructure like electricity and water.
Financial damage was also considerable in Europe. The continent has absorbed around 500,000 refugees within less than half a year. Expenses on the initial absorption in 12 European countries have already reached about €2 million (about 4,000 per refugee).
Beyond the financial price, the human cost has also risen. Deaths from terrorism stood at 32,658 in 2014, compared to 18,111 in 2013. Boko Haram and ISIS were together responsible for 51 percent of the deaths. The number of countries in which there were more than 500 deaths rose by 120 percent to 11.
Seventy-eight percent of deaths and 57 percent of all attacks occurred in five countries: Afghanistan, Iraq, Nigera, Pakistan and Syria.
The other countries in which more than 500 people died were Somalia, Ukraine, Yemen, the Central African Republic, South Sudan and Cameroon.
In Iraq, 9,929 people were killed in terror attacks last year – the highest number ever recorded in a single country. The steepest rise was in Nigeria, with 7,512 deaths in 2014, an increase of more than 300 percent compared to 2013.
The country is in the midst of an unprecedented financial crisis and is nearing bankruptcy.
Another major expense was the actual fight against terror organizations. Attacks on ISIS cost billions last year, with the funding divided between the 20 countries participating in the coalition.
The full IEP report can be read here .