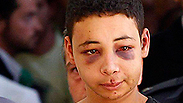 Tariq Abu Khdeir
Photo: Reuters
A policeman was spared jail and sentenced to community service on Wednesday for beating a Palestinian-American teenager during rioting in Jerusalem in an incident caught on camera.

Tariq Abu Khdeir was visiting from Tampa, Florida, as protests erupted over the July 2, 2014 abduction and killing of his 16-year-old cousin, Mohammed Abu Khdeir, in Jerusalem by three Israeli suspects.

Amateur video showed two Israeli riot policemen setting upon Tariq Abu Khdeir, who was 15 at the time. One held the youth down while the other punched and kicked him. He was left with a black eye and swollen lip.

Border Police caught on camera beating Tariq Abu Khdeir

Police said Khdeir was among six protesters caught taking part in clashes, while he said he was only a bystander.

Israel pressed charges against one of the policeman, who was convicted of assault and battery at the Jerusalem Magistrate's Court.

The court on Wednesday sentenced the policeman, whose name was not released, to 45 days' community service and a suspended prison sentence of four months, a spokeswoman for the Justice Ministry's police internal affairs department told Reuters.

"We requested that he be jailed for seven months," she said, adding that she was unable to elaborate on the sentencing.

A court spokesman declined comment, saying the case was sealed.

The US embassy in Israel had no immediate comment.

At the time of Khdeir's beating, the US State Department said it was "profoundly troubled" by reports on the incident and "strongly condemn(ed) any excessive use of force".

Israel has charged three Jews with the murder of Khdeir's cousin, saying they had sought to avenge the abduction and killing in June 2014 of three Israeli youths by Hamas militants.

The incidents sparked a cascade of violence culiminating in the July-August war between Israel and Hamas in the Gaza Strip.