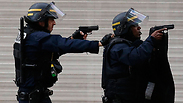 France could face the risk of chemical or bacterial warfare in its fight against Islamist militants, French Prime Minister Manuel Valls said on Thursday.

"We must not rule anything out. I say it with all the precautions needed. But we know and bear in mind that there is also a risk of chemical or bacteriological weapons," Valls told parliament.

"The macabre imagination of the masterminds is limitless," he said in a speech in the lower house of parliament meant to gain approval to an extension of the state of emergency in place since a string of coordinated attacks in Paris last week.

The whole of the West has been considering threats of terrorism with renewed interest in wake of the Paris attacks.

Also on Thursday, the Islamic State group released a video threatening that New York City's famous Times Square may be their next target.

In the video, an ISIS attacker can be seen preparing a suicide belt and strapping it on before heading out into busy Times Square with a detonator in his hand.

Meanwhile in Belgium, where several of the Paris attacker's originated from, Prime Minister Charles Michel announced a package of additional anti-terror measures in the wake of the attacks in Paris.

Michel said 400 million Euros ($427 million) would be earmarked to expand the anti-terror fight

He told legislators in a special announcement that personnel involved in security would be increased, and said special attention would be paid to eradicating messages of hate.

Michel also called for more international cooperation.

Reuters, Associated Press and AFP contributed to this report.