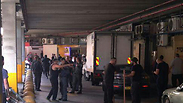 Two Israelis were killed and another was moderately wounded in a stabbing in southern Tel Aviv on Thursday afternoon.
The incident took place just outside a synagogue in the Panorama building on Ben Tzvi Boulevard.
The dead were named as Aviram Reuven, 51, from Ramle and Aharon Yisayev, 32, from Holon.
One of the victims managed to stumble into the synagogue after being stabbed, and others managed to close the door as the attacker attempted to follow the wounded victim.
The suspect, a 36-year-old resident of Dura with no criminal record, was seriously wounded and caught at the scene. The Shin Bet took custody of the Palestinian for questioning.
Initial reports revealed that the attacker was in Israel legally, working for a nearby restaurant.
The wounded were evacuated to Sourasky Medical Center in central Tel Aviv.
Hamas released a statement praising the attack, connecting it to the fact that Israel still holds the bodies of several recent Palestinian attackers who were killed by security forces.
Elior Levy contributed to this report.