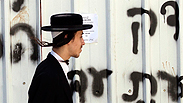 Haredi neighborhood of Mea Shearim (archives)
Photo: EPA
A total of 264 streets in Jerusalem are blocked off to traffic on Shabbat, and the entry of any vehicle - including bicycles - is strictly forbidden.

The list of streets, which was approved by the City Council over the years and has been obtained by Council Member Laura Wharton (Meretz), reveals that entire neighborhoods in the city are closed off during the Jewish day of rest.

Shabbat Wars

Gett forced to cancel campaign encouraging drivers to work on Shabbat after Jerusalem rabbis call on ultra-Orthodox public not to use company's taxis on weekdays either.

According to the data, all 22 streets of Mea Shearim are closed on Shabbat and Jewish holidays, including all entrances to the ultra-Orthodox neighborhood. All 14 streets of the Bukharan Quarter are also closed, as well as the 12 streets in the Sha'arei Hesed neighborhood and the 64 streets in the predominantly haredi neighborhood of Beit Yisrael.

Other neighborhoods which are closed off on weekends are Sanhedria, Tel Arza, Kiryat Sanz, Kerem Avraham, Har Nof and Ramat Shlomo.

In Ramot,, where there is still a mixed population in the neighborhood, the municipality has blocked off all the streets in the northern haredi compound of Ramot Polin.

All the streets of the Bayit VeGan neighborhood, which has become increasingly haredi in the past few years, are also closed, as are most of the main streets of the Givat Mordechai neighborhood.

Eleven main streets are also closed in the Nachlaot neighborhood in central Jerusalem, including Shomron Street which connects the neighborhood to the Mahane Yehuda Market.

It should be noted that since December 2006, when the City Council decided to block off the Shamgar-Golda Road to traffic on Shabbat and Jewish holidays, not a single new road has been closed in the city. However, the closing of that main road led to the closure of the roads leading to it as well.

In addition, residents often close off streets illegally on their own accord.

The Jerusalem Municipality offered the following response: "Not a single new road has been closed to traffic during Mayor Nir Barkat's term."