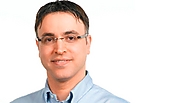 Prof. Hussam Haick of the Technion in Haifa
Researchers at the Technion in Haifa have developed a new platform that is sensitive to touch and flexible, which also repairs itself automatically in the event of damage such as scratches or cuts.

The research, carried out at the Technion's chemical engineering faculty and Russell Berrie Nanotechnology Institute, was published in the leading journal "Advanced Materials."

Researchers at the Technion say that the platform has sensors which are sensitive to pressure, heat and volatile particles. Its potential uses include electronic skin, which can simulate human skin and continuously monitor the health of the person it is attached to; touch screens that can maintain transparency for long periods; transistors in electrical circuits that can permanently monitor for and correct flaws; and more.

Dr. Tan-Phat Huynh, one of the researchers at the Technion, and Prof. Hossam Haick, head of one of the labs at the institute, explained in their research paper: "Our development is based on new types of synthetic polymers with controlled electrical and chemical properties."

They also said that its automatic healing properties meant that the material could repair itself fully within 10 to 30 minutes of being damaged.

"The self-repair function can occur in any part of the material, so anywhere that the platform is "injured," it can renew itself. This way full repair can take place while it continues to function under varying temperatures, pressure and while exposed to volatile particles," Prof. Haick said.

Experiments conducted during the research showed that throughout half a year of continuous functioning, including random "injuries" to the platform, it lost less than 10 percent of its sensitivity level.