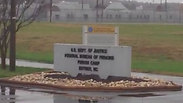 The prison that served as Pollard's home for 30 years
Mere hours after his release on Friday, Jonathan Pollard's lawyers appealed what they termed illegal restrictions placed on the Israeli spy, including an ankle bracelet with 24 hour GPS monitoring, and tracking of his and his employer's computer systems.
As part of his parole, Pollard must remain in the United States for five years, although his lawyers have asked President Barack Obama to commute his sentence, allowing him to go to Israel immediately.
US Deputy National Security Advisor Ben Rhodes said Obama "has no plans to alter the forms of his parole" to allow him to leave the United States.
Pollard's lawyers, Eliot Lauer and Jacques Semmelman, say the conditions would make it hard for their client to find employment, as no employer would agree to the tracking of their systems. Lauer said Pollard was set to work in the finance department of an investment firm in New York.
Lauer would not identify the firm but said it had hired Pollard before the computer monitoring requirement was imposed. He expressed concern that the restriction could put Pollard's job in jeopardy.
Pollard's lawyers also complained that wearing a GPS device would be harmful to his health because he has severe diabetes and chronic swelling in his legs and ankles.
"The Parole Commission has imposed conditions of parole that are unreasonable and unlawful. Accordingly, we have today commenced a proceeding in the United States District Court for the Southern District of New York challenging these illegal conditions and asking the court to vacate them," Lauer and Semmelman said in a statement.
The attorneys cited the lack of viability or relevance of any and all intelligence materials Pollard may have been exposed to 30 years ago before his arrest.
"I see no reason for concern that Mr. Pollard might still deliver classified information to someone. To the extent Mr. Pollard even recalls any classified information, it would date back 30 years or more, and would have no value to anyone today," the statement said, adding that, "Classified information from 30 years ago is useless."
Pollard in New York (Video: Ilana Gold) (חשבון הטוויטר של אילנה גולד, כתבת CBS בניו יורק)
Pollard's attorneys also submitted a declaration from Dennis DeConcini, who had served on the Senate Intelligence Committee at the time of Pollard's arrest. In the letter, DeConcini affirmed that "the information would not be of value to anyone today."
Pollard's lawyers cited that the parole board's justification for the conditions was to ensure that Pollard would not commit any further crimes, specifically the disclosure of classified information, an action that Pollard's attorney's have consistently sought to disprove.
"The notion that, having fought for and finally obtained his release after serving 30 years in prison, Mr. Pollard will now disclose stale 30-year old information to anyone, is preposterous. Apart from the fact that the information is useless, disclosing it will result in Mr. Pollard's swift return to prison to serve out his life sentence," the statement concluded.
Pollard was tried and convicted of spying against the US for Israeli intelligence in 1985 and served a 30-year prison sentence despite repeated attempts by Israeli prime ministers to convince US presidents to sign off on his release.
The prosecutor who handled the case, former US Attorney Joseph diGenova, said it is legitimate for the government to be concerned that Pollard might still have secrets to tell.
"Anyone who obtained as much information as Mr. Pollard did over an extended period of time is perfectly capable of revealing ... information that he might have in his brain locked away somewhere," he said. "It is perfectly understandable that the government would want to do those types of examinations of computers and other devices."
Kenneth Lasson, a law professor at the University of Baltimore who supported Pollard's bid to have his sentence shortened, said the GPS monitoring and computer inspections amount to "vindictiveness by a petty-minded government." He said the US should grant Pollard's request to leave the country.
"What they are afraid of?" he asked. "I think what they are afraid of is that he's going to be received as a hero by the Israeli public."
News of Pollard's release drew immediate praise in Israel, "The people of Israel welcome Jonathan Pollard's release," Prime Minister Benjamin Netanyahu said in a statement released shortly after the news broke.
"May this Sabbath bring him much joy and peace that will continue in the years and decades ahead."
Netanyahu has urged Israelis not to celebrate too much in case that damages efforts to persuade the US government to let Pollard leave for Israel sooner.
Pollard, who was granted Israeli citizenship while in prison, has said he wants to emigrate to Israel, where his wife lives and where he can expect to receive substantial Israeli government back pay.
"I'm sorry, I can't comment on anything today," the 61-year-old Pollard told a swarm of reporters as he left the courthouse in Manhattan with his wife, Esther, after being fitted for the monitoring.
The Associated Press and Reuters contributed to this report.