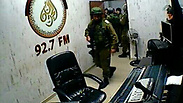 Al Huriya Radio in Hebron
The IDF shut down a Palestinian radio station in Hebron on Friday night, for the second time in the current wave of violence.

IDF troops raided Radio Al Khalil overnight and seized broadcasting equipment, leaving behind a warrant signed by the GOC Central Command, Roni Numa, which orders the shutdown of the station for six months.

The raid of Al Khalil radio

The IDF said that the raid, done in cooperation with the Shin Bet and the Israeli Civil Administration, was a result of incitement broadcasted on the station, which is one of the most popular radio stations in the area.

According to the Civil Administration, Al Khalil Radio broadcasts "inciting songs against Israel and encourages terror attacks and the murder of Israeli citizens," noting these songs make up the lion's share of the station's broadcasts.

One of the inciting songs

In addition, the Civil Administration said the radio station "broadcasts lies about the execution of Palestinians and the kidnapping of Palestinians by Israeli security forces; congratulates the families of 'shahids' for the death of their children; praises terrorists who committed stabbing and vehicular attacks; and calls for revenge attacks."

"Investigation of recent attacks found a connection between the incitement that riles up the Palestinian public and terror attacks that have taken place recently," the Civil Administration said.

Many of the recent terror attacks took place in the Hebron area, and the terrorists who murdered five people in two separate terror attacks on Thursday are also residents of the area.

The attacks in Tel Aviv and Gush Etzion on Thursday happened after several days of relative silence in the Hebron area, during which the IDF decided to remove the partial closure of the area.

So far, a decision has not been made on whether reinstate the partial closure, but COGAT decided to freeze working permits in Israel for thousands of Palestinians from the Hebron area, pending an examination of the permits.

Three weeks ago, Israeli security forces raided the offices and studio of Al Huriya Radio in Hebron, seizing technical equipment and transmitters. Al Huriya Radio, another popular station in the area, was also shut down for six month after broadcasting incitement against the State of Israel, encouraging stabbing attacks and supporting violent rioting.