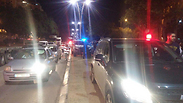 A Palestinian teenager stabbed four people, including a 13-year-old girl, in the southern city of Kiryat Gat on Saturday evening. The 18-year-old attacker managed to flee the scene, but was caught several hours later after a massive manhunt.
The victims included the 13-year-old girl, a 51-year-old man and two other women aged 44 and 56, Magen David Adom said. All were in moderate condition. A Bedouin Arab man was lightly wounded when local residents mistook him for the terrorist, beat and bound him. The five were all evacuated to the Barzilai Medical Center in Ashkelon.
Some 250 police and Border Policemen searched the area for the terrorist who fled the scene, assisted by helicopters searching from the air. Roadblocks were erected at the entrances to Kiryat Gat for the duration of the search, effectively enforcing a complete lockdown of the city.
The suspect was captured after a five-hour manhunt at the yard of a home on King David Street, where the attack took place, with the blood-soaked knife he used for the attack in his possession.
Kiryat Gat attack (צילום: רועי עידן)
The suspect was caught after two of his friends gave him up to the authorities and he was subsequently identified as Muhammad Shaker al-Tarda, an illegal worker from the village of Yatta near Hebron. Two other suspected accomplices were arrested as well.
The suspect was led away from the scene guarded by dozens of policemen who held back a crowd of angry locals.
Arrest (צילום: רועי עידן)
During police searches, 10 other illegal Palestinian workers were arrested by authorities but none had any connection to the attack itself.
The last stabbing attack to take place within Israel's borders occurred on Thursday, when two Israelis were killed by a Palestinian attacker outside of a synagogue in southern Tel Aviv.