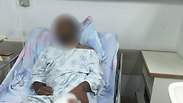 Salem. Wounded in a near-lynching.
Bedouin near-lynching victim is not angry at his attackers
Several Israelis at the scene of the stabbing attack in Kiryat Gat on Saturday mistook Salem, an Israeli Bedouin, for the terrorist, and attacked him; but he understands, 'I wouldn't want those who hurt me to be punished. The terrorist did something bad to them.'
Five people were wounded in a terrorist stabbing attack on Saturday evening, among them was Salem, a 40-year-old Bedouin Arab who was attacked when a group of locals suspected him of being the terrorist.

"I've been working in Kiryat Gat for almost two months, and I was supposed to start working as a security guard at Intel," Salem said, speaking from his hospital bed

He recounted the harrowing experience, "Civilians who saw me stabbed me in the back. I told them 'I'm not the terrorist', but they kept stabbing again and again for a long while. A policeman and another civilian stopped them, it lasted for about five minutes.

"I told the people who hit me that I was an Israeli, but they didn't listen, they went on and on," he continued.

"They know me in Kiryat Gat. There's a shop in town that I always come to and have coffee with the shopkeeper. I also have a lot of Jewish friends in town," Salem said.

He added that his family, which lives in Segev Shalom, doesn't even know about his attack. "I have small children and they don't know about what happened."

Despite his wounds, Salem doesn't appear to be angry. "I wouldn't want those who hurt me to be punished. The terrorist did something bad to them, you can understand them," he said.

Salem was admitted to Barzilai Medical Center in Ashkelon. "I feel really unwell, I have injuries in my back and my leg too," he said.

"These days I feel scared to walk around, I hardly leave home, really afraid to walk down the street," he added.

The real terrorist, an 18-year-old Palestinian who was working in Israel illegally, was caught in a private residence's yard by security forces hours after the attack. Two illegal workers, suspected of aiding the terrorist, were arrested with him. He was caught with blood still on his clothes, as well as the bloody knife he used for the attack. It appears that the man who owner of the house in whose yard the terrorist hid was asleep at the time.

Other than Salem, four people were moderately wounded in the attack. They include a 13-year-old girl, two women, 44 and 58 years old, and a 51-year-old man.