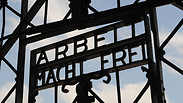 'Arbeit Macht Frei' sign at the Dachau concentration camp
Photo: AP
Holland: Jewish student's dorm room turned into 'Nazi death camp'
As part of 'humoristic initiation rite,' seniors at Leiden University spray-paint German words 'Arbeit macht frei,' mass graves and train tracks on walls of freshman's room, hang barbed wire on pipes and create swastika from sticks; university considering disciplinary measures, including expulsion.
A Jewish student at the Netherlands' prestigious Leiden University experienced a shocking initiation rite recently, when fellow students spray-painted swastikas and Nazi symbols on the walls of his room. The university's management has announced that it would take harsh measures against the students.

Dutch newspaper Volkskrant reported several days ago that the senior students redesigned the Jewish freshman's dorm room, painting mass graves and train tracks on the walls, hanging barbed wire on the pipes, creating a swastika from sticks and spray-painting the German slogan "Arbeit macht frei" (work makes you free), which was placed over the entrance to several Nazi concentration camps during World War II.

Alarming Figures

Some 200 rabbis and Jewish community leaders report a 75% increase in the number of Europeans hiding their Jewish identity.

The seniors denied that there were any anti-Semitic motives behind the act, explaining that they had redesigned the room as part of a humoristic initiation rite for the prestigious Minerva Society, the oldest student association in Holland.

Max Grapperhaus, the head of Minerva, said in response that "whether a Jewish student lives there or not, such initiatives are inappropriate and must not be tolerated."

Following the incident, he said, the involved students were barred from the organization's activities. The Leiden management said it was looking into further disciplinary measures against the students, including expulsion.

Israeli Ambassador to the Netherlands Haim Divon said in response: "While the issue is still being looked into by the university authorities, it's an extremely serious incident. We expect not only the university, but the Dutch government too, to denounce the act and take serious measures against those responsible for it, in accordance with the Dutch government's policy, which rejects any expression of anti-Semitism.

"It's unfortunate that such a serious incident took place a day after we held a ceremony honoring Righteous Among the Nations on behalf of Yad Vashem. The honors were accepted by relatives of Dutch citizens who risked their lives during the Holocaust to save Jews."