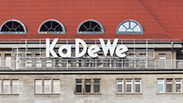 KaDeWe in Berlin
Photo: Shutterstock
A prestigious department store in Berlin has decided to remove Israeli products made in the settlements from its shelves, pending clarification on the EU's resolution to label such products, but after uproar from Israel, apologized on Sunday and returned the products to the shelves.
The store, KaDeWe ("Kaufhaus des Westens", roughly translated as "Western Department Store"), was founded in 1905 by Jewish merchant Adolf Jandorf. During the Nazis' time in power, the store was seized from its Jewish owners and given to German owners. Ownership of the KaDeWe has changed hands many times throughout the years due to financial trouble. Until recently, Israeli businessman Beny Steinmetz held a stake in the store, but he sold it in the summer of 2015.
KaDeWe is the second-largest department store in Europe after London's Harrods. It has about 380,000 products on sale, and is visited by about 40,000-50,000 customers each day.
According to Der Spiegel, the European Union's guidelines on labeling products originating from Israeli settlements in the West Bank, East Jerusalem and the Golan Heights, have caused much confusion for German retailers. Importers, store owners, and German inspection authorities have responded with befuddlement and uncertainty to the document.
KaDeWe spokesperson Petra Fladenhofer told the German newspaper that "We have removed the products from the shelves. Only after proper labeling, in conjunction with guidelines, will we put them back in stock."
"We strongly protest this step, which is unacceptable morally, historically and on its merits," Prime Minister Benjamin Netanyahu said on Sunday, calling on the German government to act on the matter.
According to Der Spiegel, if manufacturers, importers and retailers do not comply with the EU labeling guidelines, Germany may be subject to fines.
On Sunday, however, after much protest from Israel, the store issued an apology and put the products back on the shelf.
"As of today the 8 Israeli wines will be back in our assortment. In this matter, which was about a European Union recommendation, we acted too quickly and insensitively. We regret that this wrong behavior of the KaDeWe Group led to misunderstandings and would like to apologize for this," the store said in a statement.
Eldad Beck and Amit Cotler contributed to this report.