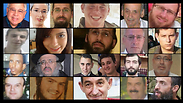 Hadar Buchris, a 21-year-old from Safed, became the 22nd terror victim in the last two months when she was murdered in an attack at Gush Etzion junction on Sunday afternoon.

Days of relative quiet in Israel have alternated with bloody days featuring multiple attacks in the outburst of Palestinian violence, which has included stabbings, shootings, and vehicular attacks. Among the victims of attacks were a Palestinian killed by a terrorist firing indiscriminately and two Israelis mistaken for terrorists.

Medical teams have so far treated 192 wounded people, while another 82 have been treated for shock.


The first death caused by terrorism this autumn was Alexander Levlovich , 64, from Jerusalem. On September 13, he was driving home after a Rosh Hashanah dinner in Armon Hanatziv when a group of Palestinians from Tzur Baher threw stones at his vehicle. The attack prompted a heart attack, which led him to drive off the road to his death. Security forces later captured the perpetrators of the attack, all residents of a nearby village.

On October 1, couple Eitam and Naama Heinkin from the settlement of Neria were murdered in their vehicle in front of their small children on their way home. Terrorists had lay in wait near the settlement of Itamar and opened fire on the family's vehicle. Eitam managed to fight one of the terrorists was overpowered. A bullet that was fired from the terrorist's gun during the struggle hit one of the assailants, causing them to flee.

The IDF and Shin Bet managed to identify and locate the members of a Hamas terror cell from Hebron who carried out the attack. Security forces arrested five of the cell's members, one of whom was captured in a Palestinian hospital.

A day later, police responded to a call that a terrorist had attempted to steal a gun from a soldier on a bus in Jerusalem. Security forces immediately responded to the attack and killed the alleged terrorist, only later discovering that the man, Simcha Hodedtov, was an Israeli citizen. According to disupted witness accounts, Hodedtov had yelled that he was a member of ISIS.

A day later, on the third of October, Aharon Banita-Bennett, 21, and Rabbi Nehemia Lavi, 41, were murdered in Jerusalem's Old City. A terrorist armed with a knife attacked Bennett and his wife, stabbing them repeatedly. Nehemia Lavi, who was at his home at the time, rushed to assist and was murdered. Border police troops who arrived at the scene shot and killed the terrorist.

On October 13, two terrorists boarded a bus in the East Talpiot neighborhood in Jerusalem and embarked on a killing spree with knives and guns. They killed Chaim Haviv, 78, and Alon Govberg, 51, in the attack. Several other people were wounded in the attack, including Haviv's wife, Shoshana. Richard Lakin, one of the people wounded in the attack, died of his wounds almost a week later.

Soon after the attack on the bus in Talpiot, another terrorist rammed his car into a crowded bus stop in the capital. The Bezeq technician then got out of his car and began attacking civilians with a meat cleaver. Yeshayahu Krishevsky, 59, was killed in the attack, and a security guard managed to shoot and neutralize the terrorist before he continued his rampage.

The city of Be'er Sheva was also targeted on October 18, when a terrorist attacked the city's central bus terminal. The terrorist entered the terminal and immediate murdered an IDF soldier, Omri Levy, 19, and took his weapon. He then began shooting in every direction, wounding several civilians, before Border Police troops managed to shoot and kill him outside the station.

The attacker was later identified as a Bedouin from southern Israel. During the attack, people had mistakenly identified a second terrorist, Eritrean citizen Hebtom Zerhom, who was killed at the hands of witnesses who beat him on the ground. The terminal's security officer had also shot Zerhom, who later succumbed to his wounds at the city's hospital.

Another Israeli fell victim to Palestinian terror on October 20. Avraham Asher Hasno , 54, from Kiryat Arba, was attacked with rocks on a road near Hebron. Hasno then stepped out of his vehicle to look for the attackers and was run over by a commercial vehicle. Hasno was critically wounded and died on the scene a short while later. He was survived by his wife and seven children. The driver of the commercial vehicle later turned himself in to the Palestinian security forces and claimed that the incident was an accident. Photos from the incident suggested that the incident was in fact a terror attack.

The terror continued on November 4, when a terrorist rammed his car into a group of Border police troops who stood on the side of the road near Halhul. One of the Border Policeman, Benjamin Yakubovich, 19, was critically wounded in the attack and died of his wounds a week later.

On November 13, the Litman family were making their way to a Shabbat Hatan dinner ahead of their daughter Sarah's wedding. A terrorist who had lay in wait near Hebron then opened fire on the family's vehicle, killing father Ya'akov, 40, and 18-year-old Netanel. Ya'akov, who was driving the vehicle, managed to report the shooting to security forces before he collapsed and died. It was later discovered that a Red Crescent medical team had been present at the scene and allegedly continued driving without providing medical assistance.

After a few days of quiet, the terror arrived at streets of Tel Aviv. A terrorist who managed to enter the city's Panorama building, murdered Rabbi Aharon Yesayev, 32, and Reuven Aviram, 51. Worshipers prevented a larger massacre when they managed to block the entrance to the makeshift synagogue in the building. Local store owners managed to subdue the terrorist and then handed him over to security forces.

Hours later, a Palestinian armed with an Uzi submachine gun opened fire at a group of vehicles stuck in traffic near the Alon Shvut junction. The terrorist murdered Yaakov Don, 49, Ezra Schwartz, 18, and Shadi Arafa. Schwartz was an American volunteer in Israel and had just finished handing out food to troops stationed in the area. The terrorist was captured by security forces.

According to MDA statistics, since the first attack which killed Levlovich, 192 people have been wounded: 20 seriously, five moderately-seriously, 28 moderately, one lightly to moderately, and another 138 lightly. 82 people have been treated for shock during the same period.