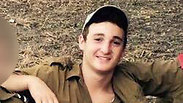 Some 80,000 fans will stand in silence at a televised NFL game on Monday, in remembrance of 18-year-old American Ezra Schwartz, who was murdered in a West Bank shooting attack while giving food to soldiers.

The symbolic moment will take place before the start of the football game between the Buffalo Bills and Schwartz's favorite team, the New England Patriots. Monday-night football is televised nationwide and reaches millions in the US.

American media reports on Schwartz's funeral.

Schwartz studied at the Ashreinu yeshiva in Beit Shemesh, and used to watch Patriots games even while he was in Israel, staying up late or waking up early in order to catch his team playing. A team jersey was featured next to the Israeli flag at his funeral.

Former MK Dov Lipman, who contacted Patriots President Robert Kraft in order to arrange the moment of silence, wrote on his Facebook page that Kraft had given an affirmative answer to the proposal, and that it would take place during the Monday Night Football game which is set to be held Monday night in Foxborough, Massachusetts.

Approximately 80,000 fans are expected to fill the Gillette Stadium, with millions more watching live on ESPN.