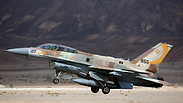 Local reports in Gaza indicated late Monday night that Israeli jets had struck several targets affiliated with Hamas in retaliation for rocket fire from the Palestinian enclave in the morning.

The airstrikes were subsequently confirmed by the IDF.

The Gaza rocket strike that spurred Monday's airstrikes against Hamas, landed in an open area in the Eshkol Regional Council.

No damage or injuries were reported and code red sirens remained silent, suggesting that the rocket's trajectory was well away from populated areas.

Simultaneous reports from Syria suggested that IAF jets had struck Hezbollah targets as well, but the rumors were initially unconfirmed by officials.